April 17, 2015
Love in Action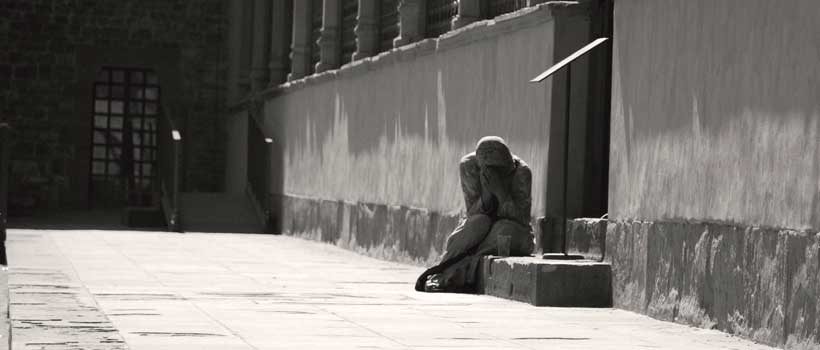 [intro]Ever had a day when you feel like you're just barely holding it together?[/intro]
You know that if one more stressor comes along—if your drama queen friend has another "episode," or if your car breaks down—you're going to fall apart. You're going to manifest the ugliness bubbling just under the surface. You're going to lose your cool. So what to do? You randomly bump into someone who seems like they care. Aha! Out comes the whole story. You want sympathy. You want solutions. They smile sadly, nod, say they'll pray for you, and are gone. You go back to the grind….and then the wash machine blows up. So do you. (Maybe you're like me, and your temper tantrum consists of turning a cold shoulder to everyone in sight, silently seething about how your life is so much harder than everyone else's, and the odd martyr's tear.) On top of all the frustration of the day, you feel like that person should have cared. Like they should have DONE something.
Imagine that feeling of frustration and helplessness, which we all feel on occasion, extending day after day…for your whole life. That's what a lot of people in our city experience. They feel that the people who claim to care, don't actually care because sometimes the tangible help don't match the words coming out of our mouths.
Perhaps this is what John had in mind when he wrote:
Let us not love with words or speech, but in actions and in truth. — 1 John 3:18
(I'm guessing that's the original version of "Your walk talks and your talk talks, but your walk talks louder than your talk talks.")
Riv's Compassion team seeks to help us go beyond just words when sharing with others. We give ourselves and our resources away as a means of sharing our hope in Jesus' restoration of this broken world. We look for meaningful ways to convey that hope to the vulnerable and despairing—not as heroes reaching down, but as one brother or sister created in the image of God sharing with another. Our mission is to show God's love to local people in tangible, personal ways. Words are a part of the process, but they only find meaning when they go hand-in-hand with doing something about the problem.
When it comes to sharing Jesus, the Riv family's impact is bigger than the sum of its parts. In other words, people can see a clearer picture of Jesus when we function as a body than when we're working solo. Don't get me wrong—it's awesome if you're sharing Jesus on your own, without a lot of support from your faith community. But there's another level. As people in life groups become intentional about "going" together here in our city, they become more Gospel-centered, more missional, more bonded. There's more accountability, more commitment, more everything.
So what can you do to see that your sharing goes beyond just nice words? What can your life group do? Here's where the Compassion team comes in. We have a whole bunch of ways to get you started.
The first step is to participate in random (aka, drop-in) opportunities. Riverview hosts approximately six drives each year. By collecting items like school supplies and canned goods, our church body gives corporately to help relieve some of the pressing and recurring local needs. And remember to check out the posts at RivChurch.com/Needs on a regular basis. You'll see a virtual bulletin board, which allows people to voice practical needs (with the exception of money or child care), and request help from the Riv family.
The next level is to consistently help with a crisis that needs relief. This means meeting a real physical need. We encourage you and your life group to jump into one of many Riv's many amazing indie ministries. You might start working with women in prison, stocking a food pantry, taking meals to the Lansing Area Aids Network, or doing oil changes for single moms.
I admit it sounds cheesy, but this is true: when you start meeting the needs of strangers, your eyes open up to a new world. There are thousands of people in our city that we don't usually see. People who are hurting. People who need Jesus. You'll feel a tug in your heart, and want to start building relationships. You'll start looking for that new friend at the soup kitchen. You'll start smiling when you think about that kid at Foster Park who keeps coming back to experience Jesus' love in action.
So start with a baby step. Experience God working through you to restore something broken, and you'll never look back.
In May, Riv is running a personal needs drive. Watch the website or look for the Compassion table in the lobby for more details.
Image credit: Ulisse Albiati
Quick Links
Connect
Prayer
Give
Life Group Material
Serve
Join Our Team
We'd love for you to consider joining one of our teams that serves during the weekend, during the week, and in our community!