December 2, 2014
Meet a Riv Band: Elisha and the Bears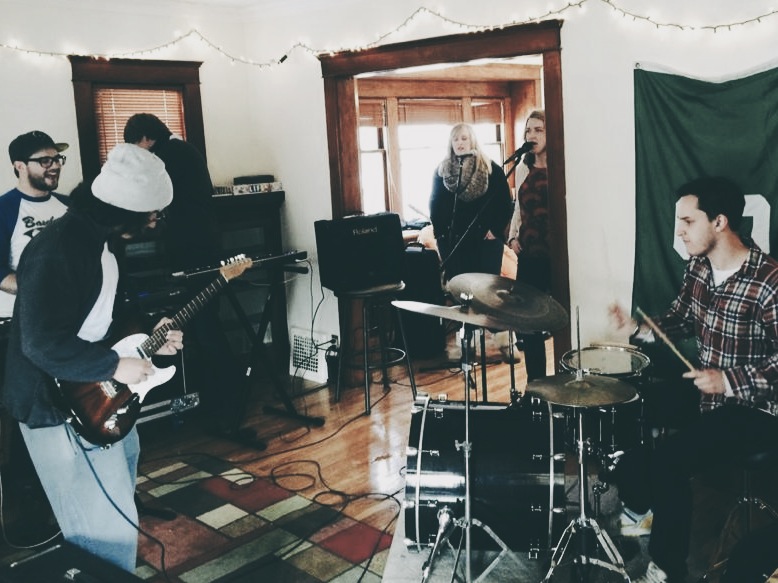 [intro]Riv features a crazy number of talented bands across all three venues. In this post, we're introducing you to the Holt Venue's Elisha and the Bears.[/intro]
How did you come up with your band name?
2 Kings 2:23-24. If you don't get why our band name is funny, go read it. We think it's funny.
Who all is in the band?
Ryan Freitas – Bandleader, Vocals, Keys
Kim Vi – Guitars, Synths, Vocals (increases overall hipster level of the band)
Austin Norton – Bass, Vocals
Judson Tolman Branam IV – Drums, Excitement
John Gotsis – Drums
Eric Smith – Keys, Synths
Becky Schmid – Vocals, (she keeps the rest of the band in line)
What's your primary venue?
We started as an MSU Venue Band, and now we primarily play at Holt.
How would you describe your musical style?
"Alt-Electronic-Folk-Rock-Soul-Crunk-Jesus music."
How did you come together as a band?
It was a mixture of connections through the MSU Venue, MSU Jazz Studies Program, Life Groups, and Riv band auditions.
How have you seen God working, either in yourselves as a band overall, or through leading worship on a Sunday morning?
It's hard to put that in a few sentences. Perhaps most notably we saw the conversion and baptism of our drummer, Jud, who first played with the band as a sub and was overtaken by the Gospel. Each of us has grown in sanctification over the years. We've (hopefully) helped people worship God in a authentic, truthful way through Sunday morning worship.
Do you have any particular hopes for Riv members as you lead them in worship?
That we would all understand how big, holy, and just God really is, and that he loves us – wretched sinners – in SPITE of that. His Grace is truly amazing, and we start to understand just how amazing that grace is when we begin to comprehend what Jesus really saved us from.
What's your favorite song to lead?
Right now, my personal favorite is probably "Destructor" for the reasons above. Just listen to the lyrics:
Heaven will disappear with a roar
The host of God will come to destroy
Sin is a declaration of war
God will have his glory one way or another.
(Ish's version of the song is embedded below.)
Can we listen to your music anywhere else?
We are in the process of finishing our EP. Hopefully it will be released in early 2015. Kim and I (Ryan) also did a Christmas EP last year that you can find on kvrf.bandcamp.com.
Anything else you want the people of Riv to know about your band and/or music?
That we love you.

Got questions, comments, or suggestions for this blog? We'd love to hear them! Just e-mail us at [email protected].
Quick Links
Connect
Prayer
Give
Life Group Material
Serve
Join Our Team
We'd love for you to consider joining one of our teams that serves during the weekend, during the week, and in our community!