January 13, 2015
Serving at Riv: Six Ways to Get Involved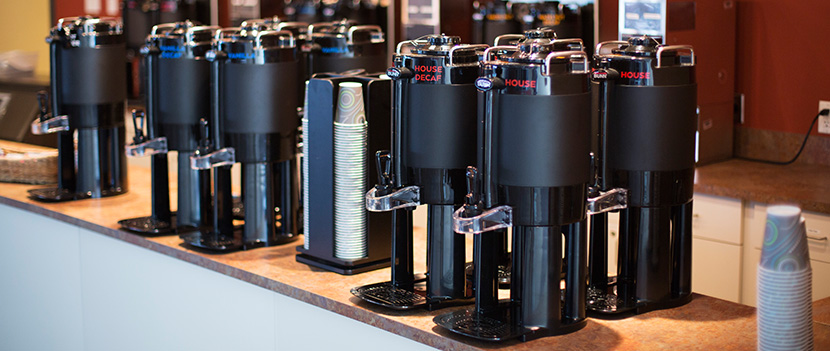 [intro]One of the big themes of the New Testament (besides Jesus' death, burial, and resurrection for our salvation, of course) is the foundation and organization of the church. Starting with Acts 2 up through the beginning of Revelation, there are instructions on selecting deacons and elders (1 Timothy 3), reminders about remaining orderly during teaching and communion (1 Corinthians 11 and 14), and examples of establishing pastoral care ministries (Acts 6).[/intro]
Amazingly, aside from picking leaders, there are very few direct instructions about how a church must be run. Instead, there is one pervasive theme: Christ-followers should be active in their local churches.
In 2015, we want to challenge everyone at Riv to take a step and get involved in serving in some way. To get you started, here are six ministries you may not think about.
Coffee Team
One of the ways we show love to people at Riv is by making coffee by the gallon each weekend. In fact, we go through 10 gallons of half-and-half alone! Long before each service starts, teams of people come in to brew the coffee in the lobby and down by the kids' wing so that it's ready for the rush. Interested in helping keep Riv caffeinated? E-mail [email protected].
Meals Team
Do you like to cook? Or maybe you have a Sam's Club membership and the willingness to buy an occasional frozen breakfast casserole. The meals team provides snacks each week to the people helping out at both Sunday services—like the band, the Welcome Team, and RivKids volunteers, to name a few. These snacks help these teams refuel between services. E-mail [email protected] to get involved.
RivBuddies
A number of parents with kids that have special needs attend Riv. To give them a chance to relax and worship, we partner these kids with volunteers during the 9:30ish and 11:00ish services on Sundays. E-mail [email protected] to learn how to help out.
(By the way, if you're the parents of a child with special needs, just fill out this form to enroll your child.)
Security Team
Technically part of the Welcome Team, the Security Team helps maintain a safe environment at Riv. They keep an eye on the Kids' wing to make that only parents, guardians, and volunteers enter the area, and even patrol the parking lot during services to ensure that nobody is attempting to break into a car while the owner is worshipping inside. Contact [email protected] for more information.
Tech Team
Are you more technically minded? Several people are behind the scenes at every service, adjusting the lighting, adjusting the sound, manning the camera, and advancing the slides. All of these are crucial roles that, if they're handled well, go almost completely unnoticed. To learn more, e-mail [email protected].
Welcome Team
It's easy to get lost in a church as big as Riv. The Welcome Team helps do just that—make Riv a welcoming place. Team members open doors, answer questions, help late arrivals find seats, and all in all help newcomers and old members feel at home. E-mail [email protected] to get involved.
Quick Links
Connect
Prayer
Give
Life Group Material
Serve
Join Our Team
We'd love for you to consider joining one of our teams that serves during the weekend, during the week, and in our community!