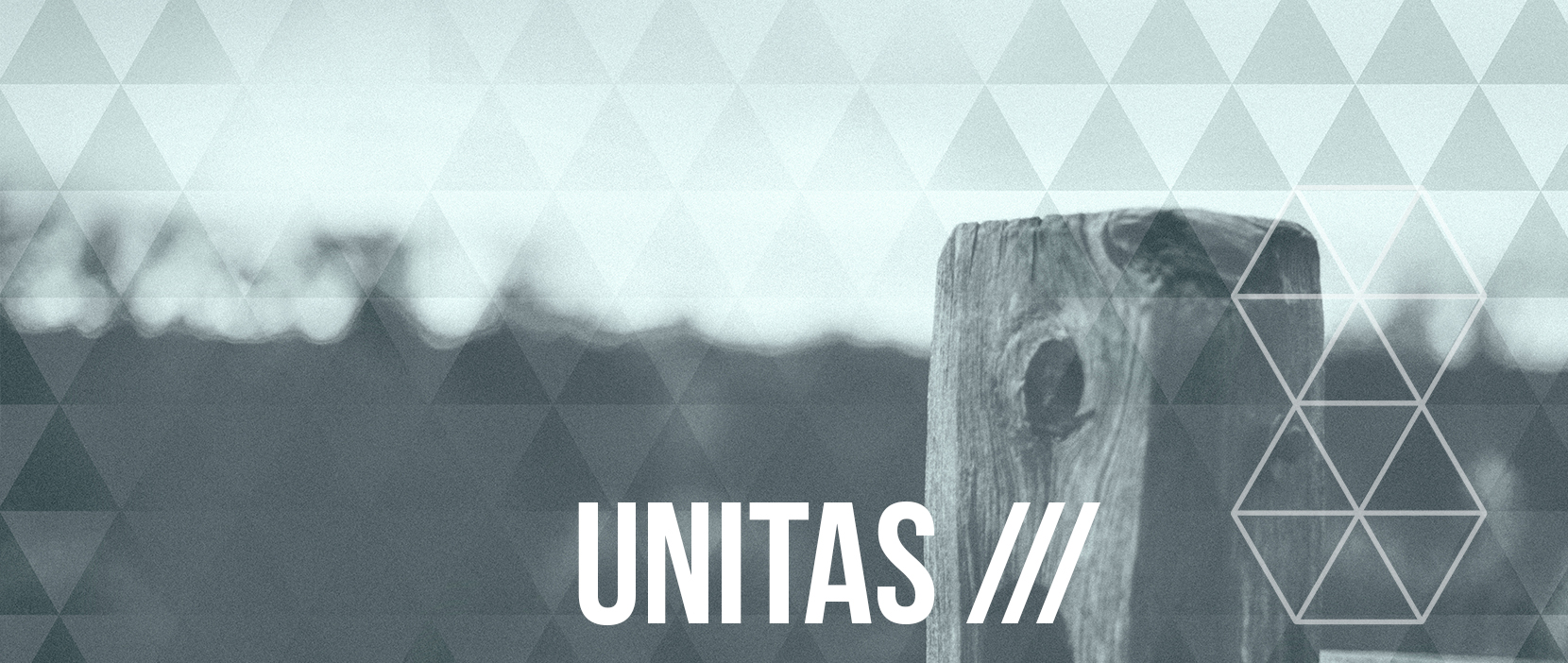 Unity.
Unity.
Our differences, which are many, disappear in comparison to what we have in common. In our new life, what matters most is Christ and the He lives in us."
Pastor Greg Van Nada
We believe in the spiritual unity of believers in Jesus Christ our Lord.
What is the truth about unity?
There is neither Jew nor Greek, there is neither slave nor free, there is no male and female, for you are all one in Christ Jesus.
Galatians 3:28
Ever since mankind was separated from God, it has been God's plan to reunite us with Himself. He started with choosing Israel as one nation to be His people. Then, in Christ, the Gentiles were brought together with the Jews as one people. This unity is extended to all people through the spread of the Gospel.
Regardless of religious background, social position, or gender, all people on the planet who have faith in Jesus Christ are united, or "one," with each other. This is an effect of Christ's work; it is true whether we like it or not, and whether we act like it or not. God's Word tells us that we are members of one body, one family, and one army. Carried out as God intends, our unity with one another is a picture to the world of greater truths about God and His people.
Where do we see unity modeled?
Unity is modeled in the Trinity in the person of the Father, Son, and Holy Spirit. There is one God, who has one purpose, carried out through the three persons of the Trinity.
We are united With Christ.
This is the basis of our salvation and in fact every spiritual blessing.
All praise to God, the Father of our Lord Jesus Christ, who has blessed us with every spiritual blessing in the heavenly realms because we are united with Christ.
Ephesians 1:3 NLT
Our oneness with Christ is the basis of our unity with each other.
Unity was seen in the New Testament Church. Acts 2:42-48 describes how the early Christians devoted themselves to the same four things: the apostles' teaching, fellowship, sharing meals (including the Lord's Supper), and prayer. They also shared all things in common, even selling their property and possessions and sharing the money with those in need. They did more than just meet together once a week; they shared their lives with each other. The Apostle Paul continued to encourage this oneness in his letters. The church had slave masters and slaves, Jews and Gentiles, males and females, tax gatherers and taxpayers. People were saved out of all walks of life, whether good citizens, religious leaders, prostitutes, thieves, slanderers, sexual deviants or even murderers. Paul reminded them that they were no different in Christ; all in need of their Savior.
At Riverview, we unite with two national church networks and with Lansing area churches to spread the Gospel and plant new churches. We have put on a statewide conference called Sola 13 with a neighboring church, and allow another church to use our facility as we unite to reach our community together. We don't agree with everything each of these churches believes, but we unite in the basic truths of Christianity.
Revelation describes the unity that we will live out in the future.
I looked, and behold, a great multitude that no one could number, from every nation, from all tribes and peoples and languages, standing before the throne and before the Lamb, clothed in white robes, with palm branches in their hands, and crying out with a loud voice, 'Salvation belongs to our God who sits on the throne, and to the Lamb!'
Revelation 7:9-10
Tim Keller calls this the "high and far, yet sure horizon we are all journeying toward." No matter what conflicts we experience with a brother or sister today, we will one day stand with that same person, side by side before God's throne, and praise Him together for what Jesus has done for us.
What does unity look like?
Here there is not Greek and Jew, circumcised and uncircumcised, barbarian, Scythian, slave, free; but Christ is all, and in all.
Colossians 3:11
Our differences, which are many, disappear in comparison to what we have in common. In our new life, what matters most is Christ and that He lives in us.
We are united in one body.
Unity requires that we share something in common. What we have in common is Christ.
There is one body and one Spirit—just as you were called to the one hope that belongs to your call—one Lord, one faith, one baptism, one God and Father of all, who is over all and through all and in all.
Ephesians 4:4-6
As Christians we receive the same Spirit, as we exercise the same faith in the same Lord, and are baptized with the same baptism into Christ where we are called to the same glorious hope for the future, all under the same God and Father. We all depend on the Father drawing us to Himself, Jesus' payment for our sins, and the Holy Spirit to complete the work started at salvation.
The human body has many parts, but the many parts make up one whole body. So it is with the body of Christ.
I Corinthians 12:12 (emphasis added)
If a physical body has a part that is not united, or in step, with what the rest of the body is trying to do, the whole body is considered handicapped. Every part of the body must work in unison to function properly. Unless the body of Christ functions together, it's considered dysfunctional and likewise handicapped. Agreeing on the essentials of the faith allows us to function as a healthy body.
The parts of the body work together.
Differences are necessary in a body. They do not interfere with our unity, but actually enhance it. Beyond the essentials of the faith, God wants differences among His people. In the body of Christ, God has put each part right where He wants it. He created us with differences that actually make the body of Christ stronger and more functional.
If the whole body were an eye, where would be the sense of hearing? If the whole body were an ear, where would be the sense of smell? But as it is, God arranged the members in the body, each one of them, as he chose.
1 Corinthians 12:17-18
And He gave some as apostles, and some as prophets, and some as evangelists, and some as pastors and teachers, for the equipping of the saints for the work of service, to the building up of the body of Christ; until we all attain to the unity of the faith, and of the knowledge of the Son of God, to a mature man, to the measure of the stature which belongs to the fullness of Christ.
Ephesians 4:11-13
Embracing our oneness is important for unity, but so is a proper working together of our differences. It is the exercise of these different gifts for the good of all that builds up the whole body, "until we all attain to the unity of the faith." Differences are not the enemy of unity, but actually the beauty of unity.
If we are all different, then how do we stay united?
Unity happens when we focus on the Gospel of Christ.
Here at Riverview we talk about closed-handed and open-handed issues. Closed-handed issues are the ones that we must hang onto because they are crucial to salvation. They define whether someone is a Christian.
For I delivered to you as of first importance what I also received: that Christ died for our sins in accordance with the Scriptures, that he was buried, that he was raised on the third day in accordance with the Scriptures.
1 Corinthians 15:3-4
The core beliefs of Christianity tell us who Jesus is and what He did for us. Jesus is God, who took on flesh as a human and lived a sinless life. Jesus died in our place on the cross, was buried, and rose from the dead on the third day. These are the central beliefs of our faith, and they define who we are united with in Christ. All other issues, while important, are not worth dividing us from fellow recipients of Jesus' work on the cross.
We were created to have a relationship with God, but our sin separated us from Him. Jesus' death paid for our sin, satisfying God's justice. Jesus made peace between God and us, reuniting us. None of us are superior to anyone else; we all stand in need of a Savior. If we can approach others as equally in need of God's grace, and in equal standing with God because of His grace, then we can accept others as they are, not thinking we're better, forgiving each other just like Christ forgives us. We can be at peace with each other, united in our shared relationship with Christ. Competition is eliminated; we don't need distinctions between us to prove that we are more right, more spiritual, or just better than others. Jesus wants us to rest in our position with God because of His righteousness alone. We were all completely lost and enslaved to sin before; we are all completely forgiven and justified by Christ's death. With respect to our standing with God, every believer is exactly the same.
If we miss the heart of the Gospel; if we think our own efforts make any difference in our standing with God; we will constantly feel the need to prove ourselves. This is the source of the basic human desire to have contempt for those who are different. It is why we look for things that make us distinct, and promote and defend those things. It is not because they are so important in the larger scheme of things, but they are vital to our own sense of worth. If we let go of them and find our justification, identity, and security in Christ, we can focus on what unites us instead of what separates us.
We do not have to look and dress the same way, share the same meeting place, become one denomination, practice our faith and worship the same way, share the same political party, educate our children in the same school system, or interpret and apply every aspect of the Bible in the same way. These are open-handed issues that have no bearing on salvation, and have no importance worth dividing us from our brothers and sisters.
Unity is maintained when we yield to the Holy Spirit's work.
I therefore, a prisoner for the Lord, urge you to walk in a manner worthy of the calling to which you have been called, with all humility and gentleness, with patience, bearing with one another in love, eager to maintain the unity of the Spirit in the bond of peace.
Ephesians 4:1-3
Walking in a manner worthy of the Gospel includes eagerly maintaining the unity of the Spirit. The Gospel placed us all in Christ and created the bond of peace; both peace with God and peace with each other. We do not have to manufacture it; we have it because of Christ. With this as our basis, we can allow the Spirit to work in our lives so that He is the unifying factor.
Notice the fruit of the Spirit mentioned in this passage. Gentleness, patience, love, and peace are qualities the Spirit produces in us as we depend on, or yield to Him. We are not naturally humble, gentle, patient, or loving. We all have the same Spirit, so if we all yield to Him, then we are united around Him. Once we yield to God, we have the power and wisdom to yield to each other.
Humility allows us to admit we are in Christ only because of what Jesus did for us, not because of anything we have done for Him. If I am humble, I can admit that I might be wrong with the non-essentials and practices that I hold dear. In Philippians 2, Paul tells us to humble ourselves to the point that we consider "others as more important than [ourselves]." That is, to consider a person that Christ died for as more important than our personal ideas and preferences.
Gentleness allows us to avoid arguments with believers who differ from us, not pushing our agenda at the expense of others.
Patience allows us to make allowances for each other's faults because of our love for a family member. We know that we too need mercy and understanding for our own faults. Jesus is our model in His patience towards us.
Humility, gentleness, and patience allow us to make every effort to let go of petty differences, focusing on what really matters, and keep ourselves united in the Spirit, binding ourselves together with peace.
Motivated by the power of unity.
Genesis 11 tells the story of the Tower of Babel. When the people decided to build this great tower, listen to what God said about the power of unity: "Look! The people are united, and they all speak the same language. After this, nothing they set out to do will be impossible for them. Come, let's go down and confuse the people with different languages. Then they won't be able to understand each other." In other words, in their unity, there would be no stopping them.
At Babel, the builders' purpose was for self-glory, to make themselves famous. God knew their need for Him, but if the builders succeeded, they would be drunk with their own power. Their need to depend on their Creator would be obscured by their united accomplishments. In love, God thwarted the power of their unity.
If God's people get behind God's purpose, to draw people to salvation in His Son, and no longer let the little things divide us, oh, the power for good! There will be no stopping us. The person and work of Christ are the only things that matter, and the rest of the issues are not to divide us but aid us as we share His love demonstrated in the Gospel.
Motivated by the importance of unity.
Jesus prayed for our unity.
I do not ask for these only, but also for those who will believe in me through their word, that they may all be one, just as you, Father, are in me, and I in you, that they also may be in us, so that the world may believe that you have sent me.
John 17:20-21
What an opportunity and privilege to be part of God's answer to Jesus' prayer. Jesus made it clear that He was not only praying for His current disciples but for all of us who would believe in Him through their word.
Our obedience to Jesus' will for our unity brings praise and glory to God. It is God's work in our lives that makes unity possible, so He gets the credit for bringing such diverse people under the same umbrella of His Church.
Jesus knew that the answer to His prayer for our unity would point to His unity with the Father, and would result in the world believing God sent Him. Unity is a powerful evangelistic tool, giving credibility to the message of the Gospel.
Seeing that the purpose of unity is not for unity's sake, but for God's glory and the salvation of the world, we want to participate in this most effective method of evangelism. We want to fight to maintain unity with our fellow believers.
The Apostle Paul understood this. In 1 Corinthians 6, he emphasized unity to the point of telling us not to take disputes between other Christians to a secular court, but to find wise people in the Church who can resolve things. He said that to attack each other before outsiders is shameful.
To have lawsuits at all with one another is already a defeat for you. Why not rather suffer wrong? Why not rather be defrauded?
1 Corinthians 6:7
Our unity is more important than any disagreements we have, even ones that mean we might be taken advantage of, or suffer wrong.
Our Lord's prayer for unity demonstrates its importance and motivates me to pursue it, even if I need to let go of pet ideas and practices, and even wrongs that have been done to me. God planned for unity, Jesus prayed for and died for unity, and the Holy Spirit gives us the power to live in unity.
Jesus Christ's death on the cross united us with God and with one another in Christ. The security of our position before God allows us to let go of competition with other believers. His Spirit empowers us to maintain unity in spite of disagreements. Our unity with believers in Jesus Christ glorifies God, and is a blessing to us and to the world.