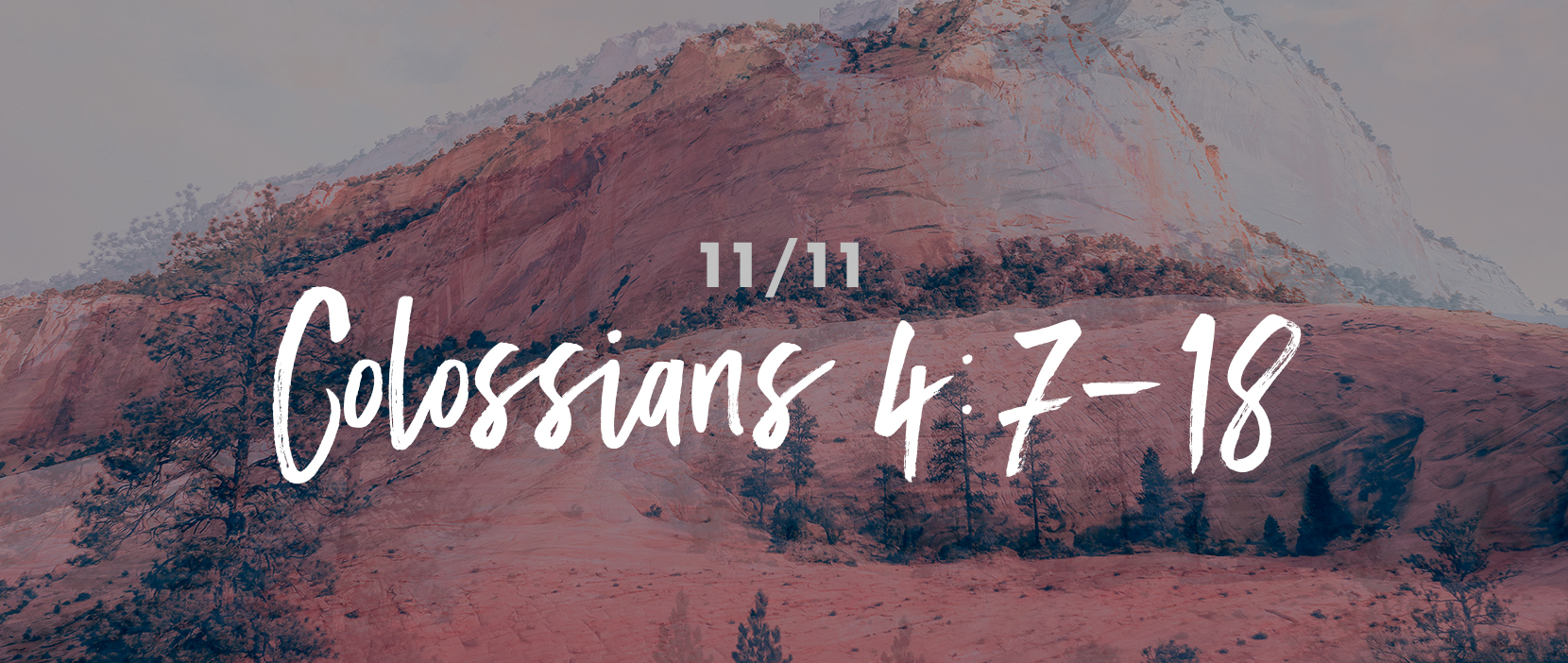 Part 11 – Colossians 4:7-18
11/11
Reflections
Paul closes his letter by encouraging the Colossians (as well as the Laodiceans) with greetings from a number of prominent leaders in the early church. His aim is to encourage the Colossian church all the more, and to make his strong message even stronger by making it known that there are a bunch of faithful saints around the world who are in agreement.
Paul identified nine people by name in the closing words of his letter:
Tychicus was one of Paul's most trusted traveling companions. He helped Paul share the Gospel, was with Paul during imprisonment, and was probably one of the people who actually delivered Paul's letter to the Colossians.
Onesimus was a former slave to a Colossian citizen by the name of Philemon. He came to faith in Christ through his relationship with Paul, and also helped deliver Paul's letter to the Colossians.
Aristarchus was a Thessalonian convert who was imprisoned in Rome with Paul.
Mark, "Barnabas' cousin," is believed to be the same "John Mark" who wrote the Gospel of Mark. He accompanied Paul, along with Barnabas, on their first missionary journey, but ended up splitting off on his own because of disagreement between he and Paul. The fact that Paul includes Mark in this letter shows that there has likely been reconciliation between them.
Justus is only mentioned once in the Bible, so we don't know much about him.
Epaphras is believed to be the man who planted the church in Colossae, and also helped launch the church in nearby Hierapolis and Laodicea. He would have been well known and greatly respected within the Colossian church.
Luke was very esteemed in the early church, having written the Gospel of Luke and the book of Acts.
Demas was with Paul during his first imprisonment in Rome. It appears that later on, after this letter was written, Demas struggled with his faith and no longer participated in missionary work.
Nympha is mentioned just this one time in the Bible as the host of a house church in Laodicea.
Although Paul's final words are specifically addressed to a man named Archippus (probably a church leader in Colossae), his words are applicable to the entire church in Colossae and to Christians throughout history. He wrote, "pay attention to the ministry you have received in the Lord," which seems to accurately represent Paul's overall goal in writing the letter to the Colossians.
Other Verses
To Consider
Who are some prominent saints (alive or dead) who have made an impact on your walk with Christ? How have they specifically affected you?
At least three of the men (Onesimus, Mark, and Demas) mentioned in Paul's epilogue are known to have, at one time, been involved with a conflict within the work of the church. How do you handle conflict with other believers? Are you aware of the biblical imperatives when it comes to dealing with personal conflict?
What is the "ministry you have received in the Lord?" How well do you believe you are fulfilling that ministry?

To Do
Review your notes and the teachings you've heard from the entire book of Colossians. Write down two or three specific practices or mindsets you'd like to maintain. Share this list with a close friend, your spouse, or a small group of friends, and ask them to pray with you and for you as you move forward with new intent.