June 26, 2015
3 Lessons You Learn in "Going" for Jesus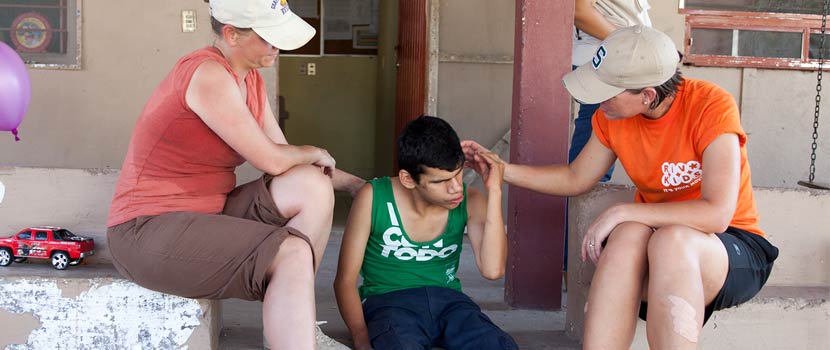 [intro]"Go therefore and make disciples of all nations, baptizing them in the name of the Father and of the Son and of the Holy Spirit…" — Matthew 28:19[/intro]
I don't think I'll ever forget his face.
In July 2001 I found myself in Tegucigalpa, Honduras, doing street evangelism with a youth organization. The people there were poor even by the standards of Latin America; I'd heard the phrase "dirt poor," but never truly understood it until I was there, sweltering under the July sun, watching humanity trudge past. Not just the children, covered in the dust of play, but the men and women, clothed in rags, their hands and faces stained by years working in the dirt, with little access to modern conveniences, like daily showers.
This man was dirty even by their low standards; his face was wrinkled, his teeth missing, his pants torn and held up by a string. Down the length of his forearm was a gash, probably a foot long and an inch wide. It was old, but the wound was caked with dirt and covered with sores. He was begging for money for a doctor. The nurse who was traveling with us took a quick look and said his arm was beyond even a doctor's help.
Truly, I say to you, as you did it to one of the least of these my brothers, you did it to me.—Matthew 25:40
Moments later, we were whisked away to our bus, away from the poor, tired, and huddled masses, and back to the relative cool and comfort of the mountainside retreat. In another week or two, we were back in the U.S., back from a land of undrinkable water and unsafe fruit to a land of Meijer and McDonald's, from crowded streets and smog to blue sky and personal space.
Still, back in suburban safety, away from scarred and dirty and toothless men, I don't regret my experience. In fact, I don't know of anyone who has ever regretted going on a missions trip. No, people come back with other descriptions:
Amazing.
Life-changing.
Incredible.
Why is it, then, that so many people fear the beggars and the strange food and the language barriers? Traveling abroad is tough and scary, yes, but the reality of God's work through us is worth it. We have the unprecedented opportunity to travel thousands of miles in a matter of hours to spread the Gospel to those who have never heard it; to provide physical and emotional and medical and financial support; to bring good news to the poor and bind up the brokenhearted (Isaiah 61:1). And the great thing? Breaking out of our comfort zones and ministering overseas is one of the greatest ways we can help facilitate spiritual growth in our own lives as well.
The truth is, there are some lessons you learn best by "going" far from home:
1. The Gospel is not suburban.
We're pretty fortunate at Riv: we live in a pretty diverse area. Metropolitan Lansing is small compared to, say, New York City or even metro Detroit, but it's still impossible to go far without bumping into someone from a different culture. And Riv in particular is blessed to be growing in diversity, especially given that the Church is one of the most segregated institutions in America as a whole.
Diversity is not just a good thing from a social justice standpoint. It's a picture of Heaven. People from every tribe and tongue and nation will be there (Revelation 7:9).
That reality doesn't often sink in, even at Riv. You don't really get it until you're at an orphanage in Mexico, being clung to by children who are desperate for both God's love and your own. You don't get it until you're literally breaking a loaf of bread that definitely contains gluten and drinking actual wine from a communal cup in an impoverished church where the only word you understand is "Hola." You don't get it until you pray with Albanians for miraculous healing because they can't afford a doctor. You don't get it until you're sitting on the floor of a house in a remote Alaskan fishing village where the Orthodox crucifix on the wall and the Bible on the coffee table and the little old Aleutian woman who loves the Lord is the closest thing they have to a church.
Riv, you see, is definitely not representative of the Church as a whole. The Church, the Body of Christ, is a crazy group of brokenhearted sinners. And—this is important—most of them do not look, sound, live, or even smell like us. And that's a glorious thing.
2. God wants your heart to be broken.
[Jesus] said to them, "Those who are well have no need of a physician, but those who are sick. I came not to call the righteous, but sinners." — Mark 2:17
I've noticed a recent trend on Facebook focusing on positivity. There are lots of pretty pictorial quotes to the effect of, "You're the boss of your own life, so fire negative people."
Not only is this impractical (you don't get to pick your coworkers, for example), it is, in some ways, contrary to the Gospel. Jesus didn't spend his time hanging out with the Pharisees and Sadducees (aka. the "right" sort of people). Instead, he spent time with the scum of the Earth. Take the lepers, for example. Jewish law prohibited even touching a leper, yet Jesus would lay his hands on them to heal them. And that's not mentioning the Samaritans, the tax collectors, or the prostitutes.
Going on mission will bring you into contact not only with the believers; it will bring you into contact with people who desperately need help. Some of them may have severe physical or mental issues.
Personally, I once had the opportunity to travel to a remote Alaskan fishing village, where a five-year-old named Lisa immediately latched onto me because we had the same name. Little Lisa was heartbreaking; she was a bit slow (possibly due to fetal alcohol syndrome), and she had significant hearing loss because of physical abuse when she was very young. She wasn't a cleanly child. She certainly had issues. And I was heartbroken when, at the end of the week, I had to leave her to her village's superstitions, to a place that kept the kids locked indoors "when alcohol comes into the village."
Riv partners with Back2Back Ministries in Mazatlan, where we work with orphanages. Some of these children were abandoned because they had physical issues. Others have emotional issues as a result of being abandoned by parents who could no longer take care of them. All of them need Jesus. All of them will break your heart like little Lisa broke mine. And that's a good thing.
3. God wants you to be changed.
I'll admit: I chose to go on my first missions trip for almost entirely selfish reasons. I wanted to travel overseas, and going on a missions trip meant that I could get people to pay for the travel expenses. Plus, I was a good Christian kid, and good Christian kids went on missions trips.
Which may explain why I found myself sobbing on the airplane after a week of training, before even landing in Mexico. I had built up my persona by being the good Christian kid, and all of a sudden I was surrounded by hundreds of other good Christian kids who were infinitely more excited about sharing the gospel than I was. In the best way possible, I was becoming humbled. My façade was coming down. I was starting to be less concerned with knowing the right answers and more concerned with introducing those I met to the right Person.
That, I suspect, is true for nearly every person who goes on a short-term trip. Whatever the reason for going, whatever your own church background, when you step out of your comfort zone and into a different culture for a week or two, you are forced to confront your own attitudes and assumptions about who God is and how He works. Maybe God will confront your selfish desires, as He did for me. Maybe He'll force you to look at Scripture in a new way; after all, nothing says "Let the little children come to me" (Matthew 19:14) like orphans running to you for love.
Each year, Riv opens hundreds of spots to go to Mazatlan, Mexico, for short-term trips. Go to rivchurch.com/mexico for trip dates and application instructions. 
Image Credit: Mike Lilly, from a 2012 trip to Mazatlan
Quick Links
Connect
Prayer
Give
Life Group Material
Serve
Join Our Team
We'd love for you to consider joining one of our teams that serves during the weekend, during the week, and in our community!