November 2, 2015
Grace, Faith, and the Gift of Salvation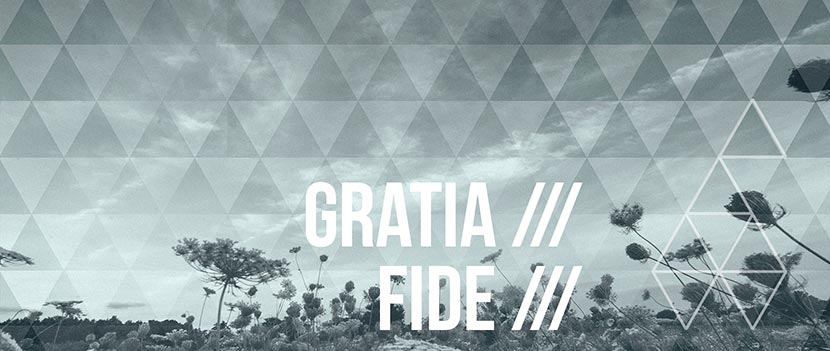 [intro]Christians believe in a loving, merciful God who by nature is also just and righteous. Love and justice co-exist and work together in God's personhood in dealing with our humanity. Our sin needed to be dealt with in such a way that God would remain faithful to both: He is always fully loving and fully just. But how is He to remain true to both aspects of His divine nature?
The answer to both is the person of Jesus Christ, God's Son.[/intro]
By sending His Son, Jesus, to live, die, and resurrect from the dead as the payment and sacrifice for sin, God exhibited His nature of justice (just payment for our sin) and love (offer of forgiveness) to those who acknowledged their sin before a righteous and holy God. Through Jesus, God's grace (unmerited favor) works together with our faith (response by believing what God says is true) to save us.
But now the righteousness of God has been manifested apart from the law, although the Law and the Prophets bear witness to it—the righteousness of God through faith in Jesus for all who believe. For there is no distinction: for all have sinned and fall short of the glory of God, and are justified by his grace as a gift, through the redemption that is in Christ Jesus, whom God put forward as a propitiation by his blood, to be received by faith. This was to show God's righteousness, because in his divine forbearance he has passed over former sins. It was to show his righteousness as the present time, so that he might be just and justifier of the one who has faith in Jesus.
Romans 3:21-26
Let's look at this incredible truth point by point.
We believe God declares righteous all who trust…
God initiated this declaration on our behalf. He alone was able to make right and settle the account for the consequences of our sin. He did this by offering Jesus as the sacrifice to make right our standing before Him as condemned sinners. He makes us righteous (as if we never sinned) based solely on Jesus' sacrifice for us. He made possible full restoration of our relationship before God when we trust (depend on/rely on) Him through faith.
A helpful way to understand trust is to think about a chair. You can test the ability of a chair to hold you up without falling by examining its sturdiness with your hand. You may walk around it to see if its design is indicative of something able to hold you up. Perhaps you would even ask someone else who has sat in it before, to find out if the chair is reliable. Yet, at some point, you need to actually sit in the chair to see if indeed it is able keep you from crashing to the floor. It is not enough to wonder if it will hold you, or to depend on the previous user's findings. You simply need to sit down in it for yourself and trust its ability to deliver. See, God is only able to declare us righteous when we actually trust in Him, or have faith in Him, that His work of salvation is able hold us up. Trust and faith go hand in hand.
In Christ alone…
Our sin made us blemished and damaged people. Sin's mark on our lives left a deep stain that we are unable to remove and clear up on our own. God understood our plight and therefore offered Jesus, who alone was sinless and unscathed by sin's consequences.
And there is salvation in no one else, for there is no other name under heaven given among men by which we must be saved.

Acts 4:12
God alone is able to declare us righteous (without sin) by substituting Jesus' life in our place. It's His life for ours, period. Our efforts to live a good life, trying hard to change, or any other option apart from trust in Jesus alone are useless. Jesus alone needed to be the payment for our sin because God alone is able to grant forgiveness of our sin. John says it this way:
Jesus said to him, "I am the way, and the truth, and the life. No one comes to the Father except through me."

John 14:6
By grace alone…
Grace is simply offering us favor that we have no merit, no means, and no ability to earn ourselves. Grace is being offered for what we don't and can't deserve. The offer of salvation through Jesus is completely an act of God's grace. Contrast this with mercy, which is not receiving what we do deserve. By God's grace we receive something we don't deserve, eternal life through Jesus. By God's mercy we avoid receiving what we do deserve, death and separation from God for all eternity.
For by grace you have been saved through faith. And this is not your own doing; it is the gift of God, not a result of works, so that no one may boast.

Ephesians 2:8-9
Through faith alone…
Faith simply means that we have trust or confidence to be able to hold on to something as true. This faith must have substance. The object of faith or trust must be true and allow us to have confidence about something. So, in order to have faith in Jesus for salvation means that we have confidence that He can deal with the guilt and consequences of sin and offer eternal life in its place.
As we see in Ephesians 2:8, salvation is always through faith, not because of faith. Faith is the means through which we are able to receive God's gift of eternal life. This "saving" faith relies on the truth of the Gospel message which we find revealed to us through the Scriptures. It relies on the factual acceptance of the person of Jesus, and the personal receiving of His finished work for us, therefore placing on Jesus our need and reliance for what He did for us on the cross.
Our sin earned us all death. Not only earthly death, but eternal death and separation from God forever. However, in spite of this death sentence that is upon every person, God offers all eternal life as a free gift (unearned) and only accessible through faith in Jesus' personal offering of His life for all.
Like any gift, it is ours to receive. John says we must respond with belief to receive it. Forgiveness of sin is offered to every person who responds in faith and belief that the consequence of their sin can be forgiven by accepting Jesus' sacrificial payment. We must put our faith, trust, and reliance on His completed work on the cross. Once we do that, we now have full assurance of being made right before God without any ill will or condemnation.
This has been excerpted from the book Credo. DOWNLOAD A COPY, or get a physical copy for free at your venue's info center!
Quick Links
Connect
Prayer
Give
Life Group Material
Serve
Join Our Team
We'd love for you to consider joining one of our teams that serves during the weekend, during the week, and in our community!