August 2, 2014
Why Rebrand?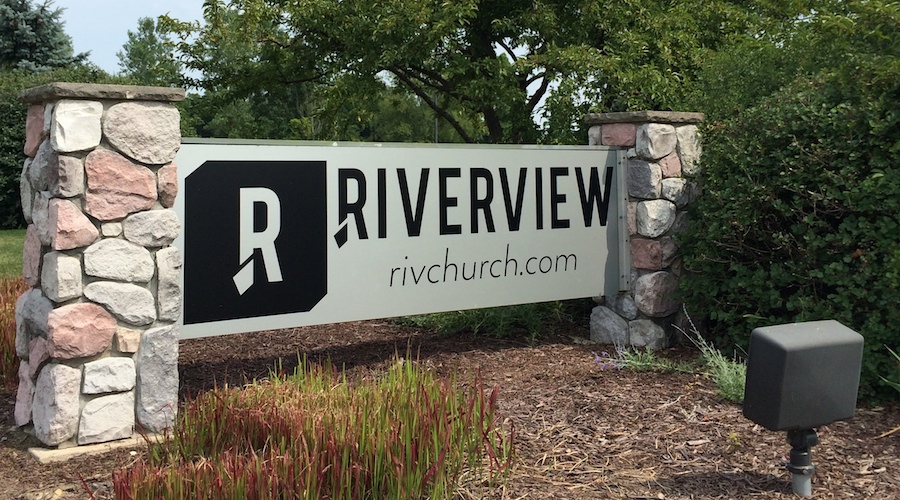 [intro] Chances are you've noticed a lot of things changing around Riv recently. New signs out front, a new weekly handout, a fresh website, and all of this sitting behind a new Logo.[/intro]
Our brand can say a lot about our church.
It's often the first welcoming voice that a newcomer will hear or the singular graphic that can evoke a sense of belonging as a family visits a new church.
While this set of graphic elements cannot, in and of itself, convey all that Riverview stands for, it is the face of our actions and words as we communicate with our family, friends, and the greater Lansing community.
As a church, we aim to make sacrificial followers of Jesus who grow, serve, and go. Our Graphic Designer, Josh Michels, talks about how the new brand incorporates this:
The notched leg of the "R" aims to symbolize this growth and direction. The single upward angle represents our trajectory of growth that we hope to see repeated as our members and Life Groups perpetually multiply. This one angle is repeated across the logo mark, and echoed in our angular typography.
Forming an abstract arrow, the notched leg also represents our focus of "going" both here in the Lansing area and beyond. Once growth happens within our walls, it is necessary that we take the story of Jesus and "go."
The Gospel matters more than a logo.
Riverview is not about good design and a clean brand, but with a unified voice, the graphics can become transparent to the message of the Gospel. That way, it's our words that can be focused on rather than their delivery.
The reason we focus on professionalism and a high production value, from our weekend services down to our printed material, is so the medium becomes transparent to the life-changing message of the Gospel.
Quick Links
Connect
Prayer
Give
Life Group Material
Serve
Join Our Team
We'd love for you to consider joining one of our teams that serves during the weekend, during the week, and in our community!