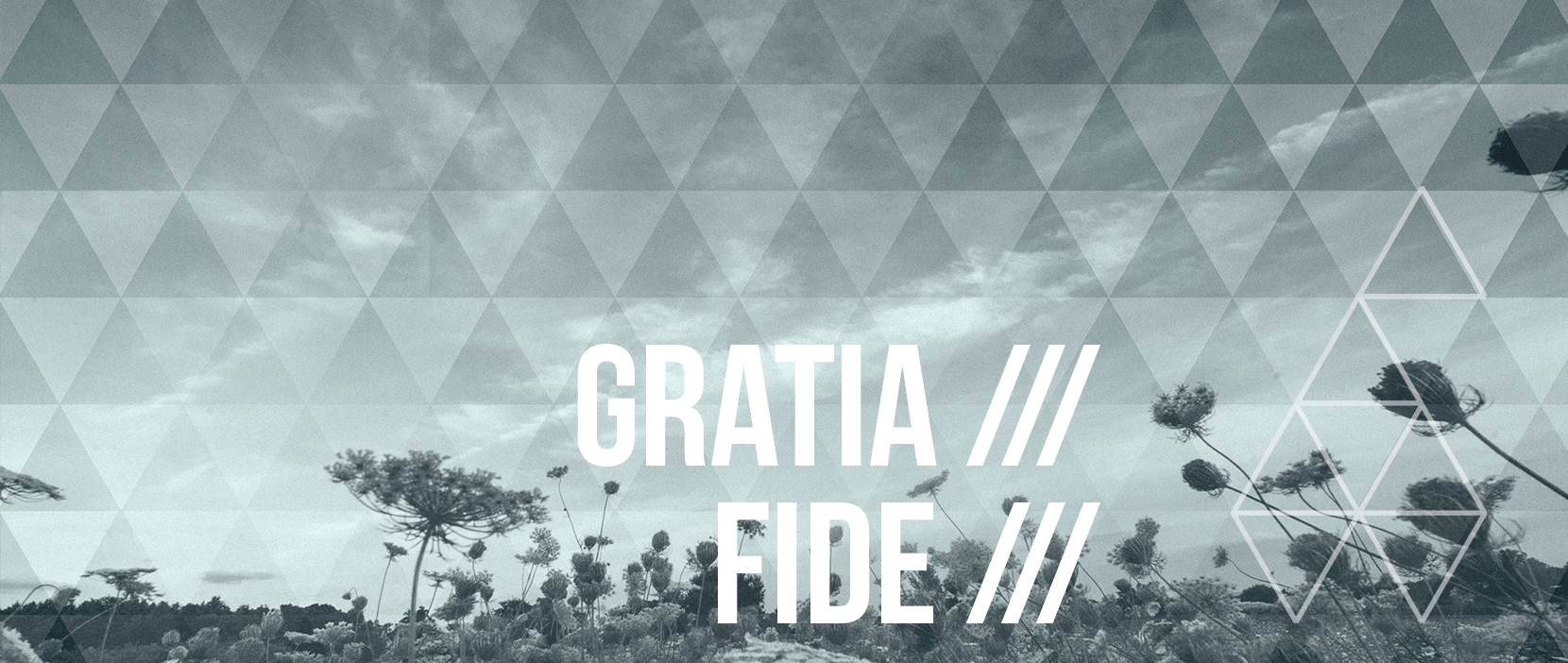 Grace and Faith.
Grace And Faith.
"The Gospel alone is able to offer liberation for all from the effects of sin that plagues our lives."
Pastor Paul DenHerder
God declares righteous all who trust in Christ alone, by grace alone, through faith alone. All who respond in belief have been assured of salvation; there is no opportunity for salvation following physical death; the Gospel and its liberating power should be proclaimed to all people, so that all who believe may be saved.
Christians believe in a loving, merciful God who by nature is also just and righteous. Love and justice co-exist and work together in God's personhood in dealing with our humanity. Our sin needs to be dealt with in such a way that God will remain faithful to both: He is always fully loving and fully just. But how is He to remain true to both aspects of His divine nature? The answer to both is the person of Jesus Christ, God's Son.
By sending His Son Jesus to live, die, and resurrect1 from the dead as the payment and sacrifice for sin, God exhibited His nature of justice (just payment for our sin) and love (offer of forgiveness) to those who acknowledged their sin before a righteous and holy God. Through Jesus, God's grace (unmerited favor) works together with our faith (response by believing what God says is true) to save us.
But now the righteousness of God has been manifested apart from the law, although the Law and the Prophets bear witness to it—the righteousness of God through faith in Jesus for all who believe. For there is no distinction: for all have sinned and fall short of the glory of God, and are justified by his grace as a gift, through the redemption that is in Christ Jesus, whom God put forward as a propitiation by his blood, to be received by faith. This was to show God's righteousness, because in his divine forbearance he has passed over former sins. It was to show his righteousness at the present time, so that he might be just and the justifier of the one who has faith in Jesus.
Romans 3:21-26
Let's look at this incredible truth point by point.
We believe God declares righteous all who trust
God initiated this declaration on our behalf. He alone was able to make right and settle the account for the consequences of our sin. He did this by offering Jesus as the sacrifice to make right our standing before Him as condemned sinners. He makes us righteous (as if we never sinned) based solely on Jesus' sacrifice for us. He made possible full restoration of our relationship before God when we trust (depend on/rely on) Him through faith.
A helpful way to understand trust is to think about a chair. You can test the ability of a chair to hold you up without falling by examining its sturdiness with your hand. You may walk around it to see if its design is indicative of something able to hold you up. Perhaps you would even ask someone else who has sat in it before, to find out if the chair is reliable. Yet, at some point, you need to actually sit in the chair to see if indeed it is able keep you from crashing to the floor. It is not enough to wonder if it will hold you, or to depend on the previous user's findings. You simply need to sit down in it for yourself and trust its ability to deliver. See, God is only able to declare us righteous when we actually trust in Him, or have faith in Him, that His work of salvation3is able hold us up. Trust and faith go hand in hand.
In Christ alone
Our sin made us blemished and damaged people. Sin's mark on our lives left a deep stain that we are unable to remove and clear up on our own. God understood our plight and therefore offered Jesus, who alone was sinless and unscathed by sin's consequences.
And there is salvation in no one else, for there is no other name under heaven given among men by which we must be saved.
Acts 4:12
God alone is able to declare us righteous (without sin) by substituting Jesus' life in our place. It's His life for ours, period. Our efforts to live a good life, trying hard to change, and all other pursuits apart from trusting in Jesus alone are useless. Jesus alone needed to be the payment for our sin because God alone is able to grant forgiveness of our sin. John says it this way:
Jesus said to him, "I am the way, and the truth, and the life. No one comes to the Father except through me."
John 14:6
By grace alone
Grace is simply offering us favor that we have no merit, no means, and no ability to earn ourselves. Grace is being offered for what we don't and can't deserve. The offer of salvation through Jesus is completely an act of God's grace. Contrast this with mercy, which is not receiving what we do deserve. By God's grace we receive something we don't deserve, eternal life through Jesus. By God's mercy we avoid receiving what we do deserve, death and separation from God for all eternity.
For by grace you have been saved through faith. And this is not your own doing; it is the gift of God, not a result of works, so that no one may boast.
Ephesians 2:8-9
Through faith alone
Faith simply means that we have trust, or confidence, to be able to hold on to something as true. This faith must have substance. The object of faith or trust must be true and allow us to have confidence about something. So, in order to have faith in Jesus for salvation, we must have confidence that He can deal with the guilt and consequences of sin and offer eternal life in its place.
As we see in Ephesians 2:8, salvation is always through faith, not because of faith. Faith is the means through which we are able to receive God's gift of eternal life. This "saving" faith relies on the truth of the Gospel3 message which we find revealed to us through the Scriptures. It relies on the factual acceptance of the person of Jesus, and the personal receiving of His finished work for us, therefore placing on Jesus our need and reliance for what He did for us on the cross.
Jesus died for all. However, forgiveness of sins is given only to those who respond in belief
Perhaps you have seen on TV or at a sports event someone holding up a sign with "John 3:16" on it:
For God so loved the world, that he gave his only Son, that whoever believes in him should not perish but have eternal life.
John 3:16
This verse is on the minds of many people, but have they truly embraced what it actually means? Jesus gave His life as a sacrifice for the whole world. His sacrifice was sufficient for all mankind. That's incredible! Forgiveness of sin was not simply God looking the other way and saying "forget about it." No, our sin had severe consequences. It separated us from God. This is where God's righteousness and justice took front and center. Our sin demanded payment from a holy and just God.
For the wages of sin is death, but the free gift of God is eternal life in Christ Jesus our Lord.
Romans 6:23
Our sin earned us all death. Not only earthly death, but eternal death and separation from God forever. However, in spite of this death sentence that is upon every person, God offers all eternal life as a free gift (unearned) and only accessible through faith in Jesus' personal offering of His life for all.
Like any gift, it is ours to receive. John says we must respond with belief to receive it. Forgiveness of sin is offered to every person who responds in faith and belief that the consequence of their sin can be forgiven by accepting Jesus' sacrificial payment. We must put our faith, trust, and reliance in His completed work on the cross. Once we do that, we have full assurance of being made right before God without any ill will or condemnation.
All believers have been assured of salvation
Eternal life is the result of understanding and accepting God's grace towards us and expressed through faith in Jesus' sacrifice for sin.
There is therefore no condemnation for those who are in Christ Jesus.
Romans 8:1
Our eternal position and standing with God is now secure. It is not conditional on our sin, be it past, present or future. God now sees us as His children, His Fatherly love being demonstrated by securing and shielding us from the wrath of a holy, righteous God. A God who once viewed us as justifiable recipients of His wrath and condemnation now allows us to receive His grace through faith in His Son's completed and finished work on the cross.
Every person who through faith accepts Jesus' payment for their sin not only has this security in their standing before God, but also the desire of a loving God to have and accept and understand this assurance. God wants us to know we are saved! See, this assurance that God offers us has no exceptions. It is not based on our performance. It wasn't contingent on our performance to receive it in the first place, nor does it depend on our performance to keep or maintain it. Eternal life is a result of God's choosing for each person who responds to Jesus. Eternal life is just what it says it is. Eternal. Not temporary until we mess up.
He who did not spare his own Son but gave Him up for us all, how will he not also with him graciously give us all things? Who shall bring any charge against God's elect? It is God who justifies. Who is to condemn? Christ Jesus is the one who died – more than that, who was raised – who is at the right hand of God, who indeed is interceding for us. Who shall separate us from the love of Christ? Shall tribulation, or distress, or persecution, or famine, or nakedness, or danger, or sword? No, in all these things we are more than conquerors through Him who loved us. For I am sure that neither death nor life, nor angels nor rulers, nor things present nor things to come, nor powers, nor height nor depth, nor anything else in all creation, will be able to separate us from the love of God in Christ Jesus our Lord.
Romans 8:33-39
As believers in Jesus and His work on the cross, our eternal salvation is assured. A passage of Scripture that has impacted my life and helped me understand the depth and reality of believing in Jesus is this:
And this is the testimony, that God gave us eternal life, and this life is in his Son. Whoever has the Son has life; whoever does not have the Son of God does not have life. I write these things to you who believe in the name of the Son of God that you may know that you have eternal life.
1 John 5:11-13
God desires us to have complete assurance of His love and acceptance. This assurance allows us to respond in love as a child does before their father, knowing that no matter what we do or say, or how we behave, we will always be His child. What an awesome truth to know, believe, and understand. It allows us to live in freedom, honesty, and transparency before our loving Father.
There is no opportunity for salvation following physical death.
Every person is faced with the opportunity and the choice regarding how they will respond to Jesus and the offer of eternal life. While we are still breathing the opportunity avails itself. However, at death the door closes. At death our choice has been made.
And just as it is appointed for man to die once, and after that comes judgment, so Christ, having been offered once to bear the sins of many, will appear a second time, not to deal with sin but to save those who are eagerly waiting him.
Hebrews 9:27-28
In this life each person has many opportunities to respond to Jesus through faith. It is a choice every person must make while we are still alive, because physical death seals the door. The decision we make while here on earth determines our eternal destiny. This reality places urgency and importance on how we live today.
The Gospel and its liberating power should be proclaimed to all people, so that all who believe may be saved.
As we read the Bible4 we see throughout the Old and New Testament that God's intent and purpose is to reconcile the world back to Himself. Sin has had a maddening and eternal affect on all. His desire is to make known to all His eternal plan of allowing each individual to forsake sin and secure their position and right standing before God. The Gospel, God's plan to allow each person the ability to experience complete and full forgiveness, is the only true and liberating option for a sin-tainted world. As Christ followers, nothing carries more importance and value than to purposefully and intentionally seek to invest our lives in God's cause.
Therefore, if anyone is in Christ, he is a new creation. The old has passed away; behold, the new has come. All this is from God, who through Christ reconciled us to himself and gave us the ministry of reconciliation. Therefore, we are ambassadors for Christ, God making his appeal through us. We implore you on behalf of Christ, be reconciled to God.
2 Corinthians 5:17-20
We have the privilege of living out and proclaiming to others this incredible reality.
The Gospel alone is able to offer liberation for all from the effects of sin that plagues our lives. Only through faith in Jesus can we experience this freedom. Then, as followers of Jesus, we can live in such a way that honors and expresses our appreciation to God for eternal life and the reality of living life free from the bondage of sin.
---
1. For further reading, see Pastor James' article: Resurrection.
2. For further reading, see Pastor Noel's article: Salvation.
3. For further reading, see Pastor Noel's article: The Liberating Power Of The Gospel.
1. For further reading, see Pastor Steve's article: The Bible.