October 7, 2014
Meet a Riv Band: The Difficulty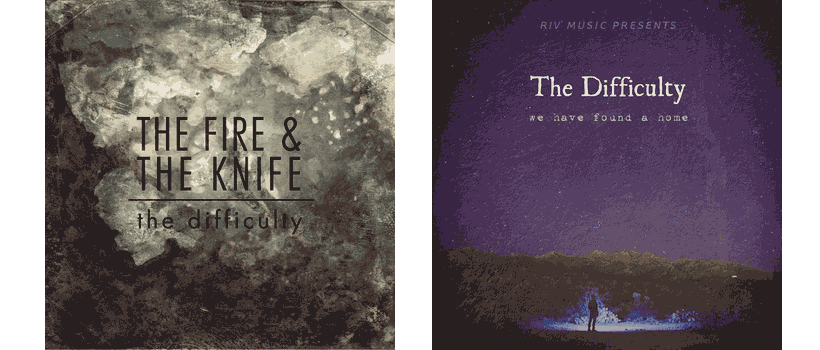 [intro]Riv features a crazy number of talented bands across all three venues. This time, we're introducing you to The Difficulty.[/intro]
Who all is in The Difficulty?
Josh Linsley – Vocals, Synth
Sean White – Electric Guitar
Dan Price – Vocals, Electric Guitar, Keys
Dave Shilakes – Upside-Down Bass
Joel Thiele – Drums
What's your primary venue?
Holt
How would you describe your musical style?
We span the "indie" rock spectrum. We have some "lighter" songs and some "heavier" songs but for the most part we play guitar driven alt/pop/rock. Does … does that even make any sense?
What led you to come together as a band?
About 8 years ago I (Sean) was inspired by a band called Team Strike Force at Mars Hill Seattle. I had never heard a worship band that sounded like that before. I wanted there to be a band at Riv that was outside the norm, something I would be excited about. After some discussions with my friend Jeremy Mason we pulled some friends together and started practicing. Soon we added Dan Price. Not too long after that Joel Thiele took over on drums. In the last year or so we filled a vacancy at bass guitar with Dave Shilakes. Also, Jeremy recently decided to step down to focus on family and a new business venture and luckily for us Josh Linsley was available to take over on lead vocals.
Do you have any particular hopes for Riv members as you lead them in worship?
One of the reasons we come to church is sing songs together. You can worship God in song any time during the week, but it's only at a church service (usually) that we can worship together. So sing! Even if you don't like the music, there are people all around you who might love it.
What's your favorite song to lead?
We've written a few songs over the years and the ones that people have responded to over the years are really fun to lead. Writing a song, then playing it during a service, and having people use it to worship God. That's pretty cool.

Can we listen to your music anywhere else?
Yes! We have a full length album called The Fire & The Knife and a 5 song EP called We Have Found A Home. Both are available at the Info Center or at rivchurch.bandcamp.com.
Anything else you want the people of Riv to know about your band and/or music?
The Difficulty is so named, because we thought people would have some difficulty adjusting to our style of music in a church setting. If people have had difficulty, we haven't heard about it, in fact Riv has shown us nothing but support and encouragement. I think I can speak for all of us when I say, thank you. Without the willingness of Riverview to let us experiment and figure things out we wouldn't have had the opportunity to write, record, and perform music that we're all really proud of, and that's something special.
Got questions, comments, or suggestions for this blog? We'd love to hear them! Just e-mail us at [email protected].
Quick Links
Connect
Prayer
Give
Life Group Material
Serve
Join Our Team
We'd love for you to consider joining one of our teams that serves during the weekend, during the week, and in our community!