October 20, 2014
Riv's New Mission Statement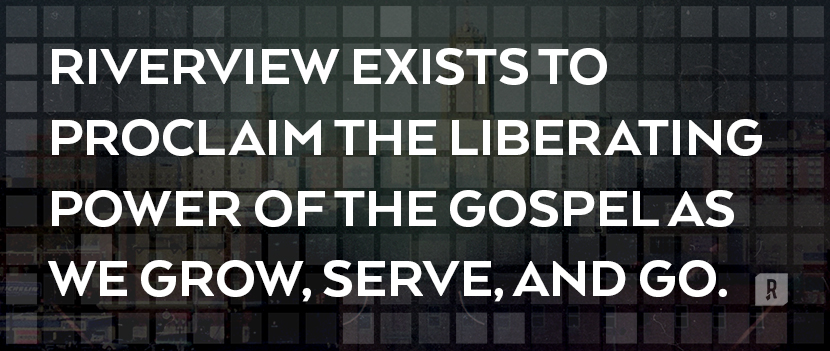 [intro]Riverview exists to proclaim the liberating power of the Gospel as we grow, serve, and go.[/intro]
This weekend, we unveiled our new Riverview Mission Statement.  While we really loved our old one (and it served us well), we wanted a statement that more vividly reflected who we are as a church and what we are all about.  Here's a few things I love about the change:
It focuses everything on what Jesus has done, not what we do.
One of the things we hear a lot around here is that people are surprised that we not only preach grace, but we actually live it.  One woman summed it up well when she said, "whenever I attend Riverview, I feel convicted by the Word of God and not judged by people."  At Riv, we want to clearly declare what God has to say about the severity of sin and what God has done about it through the person and work of Jesus. Jesus has set us free from the eternal consequences, guilt, and power of sin and we want to shout it from the rooftops to anyone who will listen.  We know that we are all sinners saved by grace, so we are gracious to others in how we do this.
While the focus is on Jesus, we are reminded that we get to play a crucial part in the proclamation of his Gospel.
Jesus could have chosen to write his message in the clouds, but he decided to use his church instead.  During our weekend services, we proclaim his Gospel and each one of us continues that proclamation "as we grow (in our faith), serve (one another), and go (on mission for Jesus)."
Not only did we tweak our mission statement, but we added a Vision Statement to help us clearly articulate why we are on the mission we are on:
We believe that Jesus Christ has set us free from the eternal consequences, guilt, and power of sin.  No longer enslaved to our own sinful desires,
We are set free to walk in step with the truth of the Gospel;
We no longer live for ourselves, but for the name of Jesus, for the glory of God the Father, through the power of the Holy Spirit;
We will proclaim this message of freedom until every man, woman, and child in the Greater-Lansing area has repeated opportunities to hear and respond to Jesus;
We will plant churches throughout the state of Michigan, proclaiming the message of the Gospel from there to our nation and world.
You can read our full "What we Believe" statement on our website.

Quick Links
Connect
Prayer
Give
Life Group Material
Serve
Join Our Team
We'd love for you to consider joining one of our teams that serves during the weekend, during the week, and in our community!