November 11, 2014
Overcome with Peace and Reassurance: Sarah's Baptism Story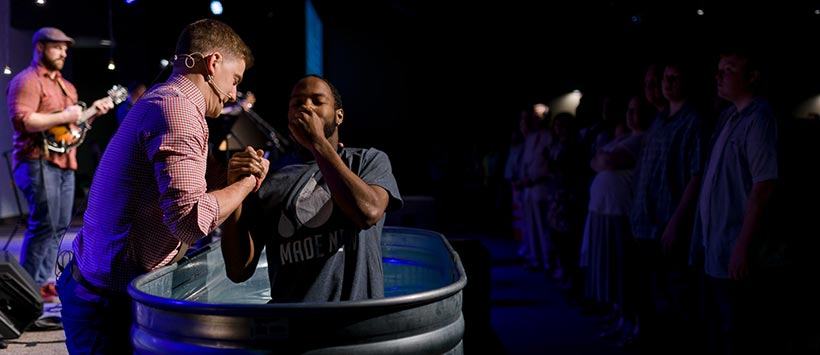 [intro]Sarah is getting baptized the weekend of November 15/16. This is her story.[/intro]
Tell us a little bit about yourself!
I recently moved to MI for school. My fiancé is currently incarcerated, and he will be released at the beginning of 2015, ending a yearlong absence during which I am taking care of his son. While this has been a difficult time for all of us, emotionally, physically, financially and spiritually, we have been growing stronger and stronger in our faith. My life revolves around my stepson, with whom I enjoy baking, doing fun activities, and reading.
How did you come to know Jesus as your Savior?
I was baptized as a child, and attended church, but had never felt a true connection to Jesus. The day that we found out about my fiancé's sentence in court has been both the most difficult yet rewarding day of my life—and his. The judge's decision was unexpected; and even though we were prepared to face anything, we had been suggested that the outcome would be different. The moment the judge's decision fell and they took my fiancé away, I suddenly felt God's overwhelming presence in the room. I later found out that my fiancé felt it too. We both were overcome with peace and reassurance. We locked eyes and knew that everything would be fine, because we were walking in Jesus' path. So, I suddenly became the sole provider for his son that he had been raising alone for years. Becoming a new mom to a 10-year old, managing daily errands, school, work, and prison life would have been impossible if it weren't for Jesus' presence in our lives.
How did you come to be involved at Riv?
In the midst of all the chaos, I received an offer to move to MSU and continue my studies in MI. We agreed that it would be an amazing opportunity, so my stepson and I moved here in the summer. I had prayed for God to guide us to a new church, and found Riverview right away. We felt Jesus during the worship, service, and prayer time our first time there, and have been attending ever since.
Why did you choose to be baptized?
Ever since those changes in my life, I had wanted to be (re)baptized. Making this decision as an adult is an important stepping stone for me, and I wanted to be obedient to Jesus' direct commandment to get baptized in full consciousness of my commitment. I want to set the example for other followers and for people who have not yet discovered their faith in Jesus. My family, here and in prison, have been devoted to Jesus, we love Him, and want to continue living a Christ-centered life.
Want to get baptized at Riverview? We hold baptisms several times a year. Our next baptisms will be November 15-16. E-mail [email protected] for more information.
Quick Links
Connect
Prayer
Give
Life Group Material
Serve
Join Our Team
We'd love for you to consider joining one of our teams that serves during the weekend, during the week, and in our community!