Quick Clips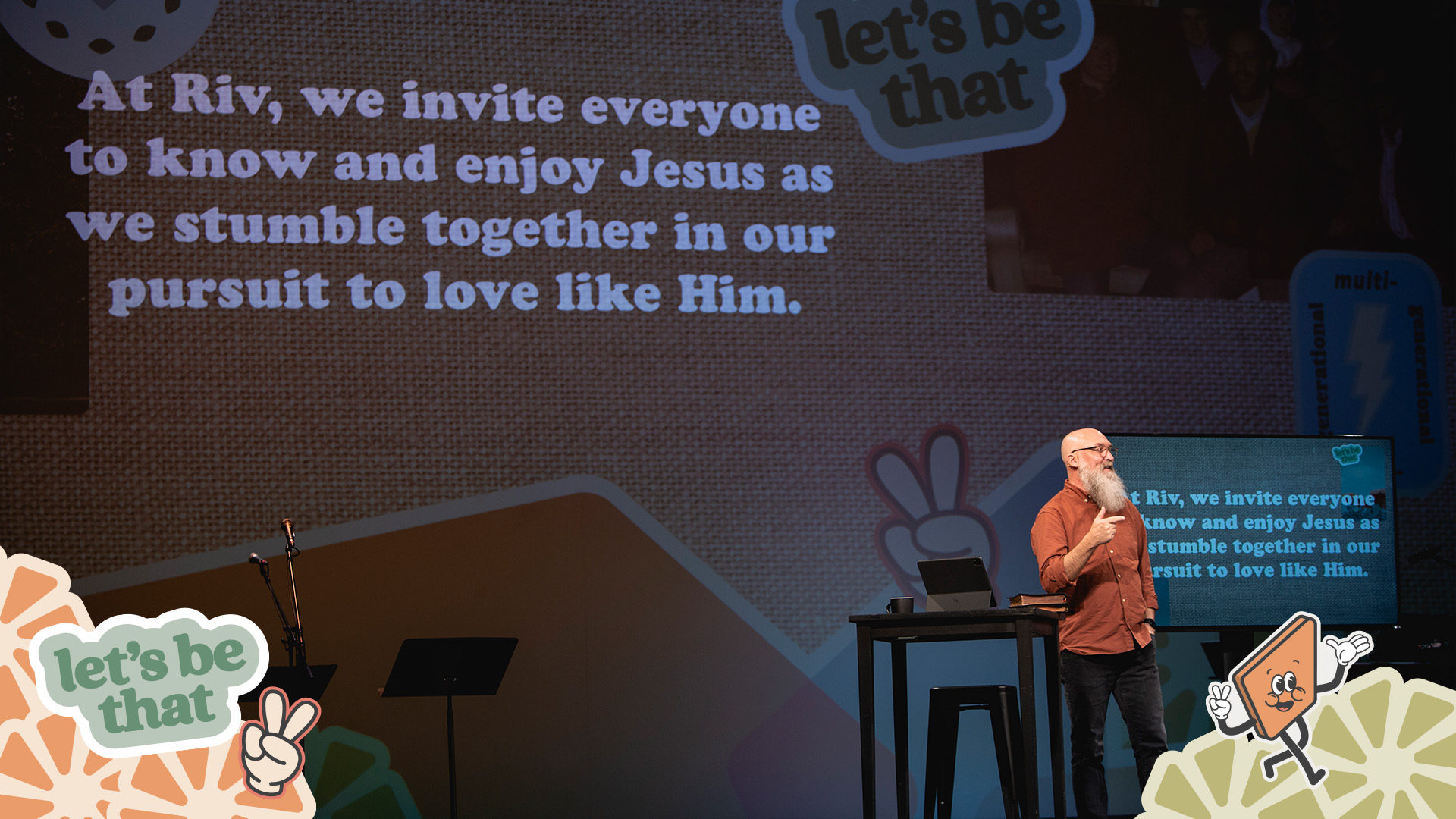 04.24.22 | Let's Be That
Inside [and] Out
The Gospel of Jesus is a message of hope and reconciliation for the world. For that reason, we are committed to planting churches in Michigan, across our country, and around the world. Pastor Noel Jesse Heikkinen shares the story of church planting through riv and how we continue to see the fame of God grow. Because the love of Jesus compels us, we share the love of Jesus with others, so that they may choose to love Him and place their faith in Him.
Watch
Watch
Watch
Listen
Listen
Listen
At Riv, we invite everyone to know and enjoy Jesus as we stumble together in our pursuit to love like him.
Then the LORD said to Moses, "Go in to Pharaoh and tell him: This is what the LORD says: Let my people go, so that they may worship me. But if you refuse to let them go, then I will plague all your territory with frogs. The Nile will swarm with frogs; they will come up and go into your palace, into your bedroom and on your bed, into the houses of your officials and your people, and into your ovens and kneading bowls. The frogs will come up on you, your people, and all your officials."
Exodus 8:1-4
Pharaoh summoned Moses and Aaron and said, "Appeal to the LORD to remove the frogs from me and my people. Then I will let the people go and they can sacrifice to the LORD." Moses said to Pharaoh, "You may have the honor of choosing. When should I appeal on behalf of you, your officials, and your people, that the frogs be taken away from you and your houses, and remain only in the Nile?" "Tomorrow," he answered. Moses replied, "As you have said, so that you may know there is no one like the LORD our God
Exodus 8:8-10
For this time I am about to send all my plagues against you, your officials, and your people. Then you will know there is no one like me on the whole earth. By now I could have stretched out my hand and struck you and your people with a plague, and you would have been obliterated from the earth. However, I have let you live for this purpose: to show you my power and to make my name known on the whole earth.
Exodus 9:14-16
For the LORD your God dried up the water of the Jordan before you until you had crossed over, just as the LORD your God did to the Red Sea, which he dried up before us until we had crossed over. This is so that all the peoples of the earth may know that the LORD's hand is strong, and so that you may always fear the LORD your God."
Joshua 4:23-24
David said to the Philistine, "You come against me with a sword, spear, and javelin, but I come against you in the name of the LORD of Armies, the God of the ranks of Israel — you have defied him. Today, the LORD will hand you over to me. Today, I'll strike you down, remove your head, and give the corpses of the Philistine camp to the birds of the sky and the wild creatures of the earth. Then all the world will know that Israel has a God
1 Samuel 17:45-46
"Be still, and know that I am God.
Psalm 46:10
God is our refuge and strength,
a helper who is always found
in times of trouble.
Therefore we will not be afraid,
though the earth trembles
and the mountains topple
into the depths of the seas,
though its water roars and foams
and the mountains quake with its turmoil.
Selah
There is a river —
its streams delight the city of God,
the holy dwelling place of the Most High.
God is within her; she will not be toppled.
God will help her when the morning dawns.
Nations rage, kingdoms topple;
the earth melts when he lifts his voice.
The Lord of Armies is with us;
the God of Jacob is our stronghold.
Selah
Come, see the works of the Lord,
who brings devastation on the earth.
He makes wars cease throughout the earth.
He shatters bows and cuts spears to pieces;
he sets wagons ablaze.
"Stop fighting, and know that I am God,
exalted among the nations, exalted on the earth."
The Lord of Armies is with us;
the God of Jacob is our stronghold.
Psalm 46
"Be still, and know that I am God. I will be exalted among the nations, I will be exalted in the earth!"
Psalm 46:10
"Jerusalem, Jerusalem, who kills the prophets and stones those who are sent to her. How often I wanted to gather your children together, as a hen gathers her chicks under her wings, but you were not willing! See, your house is left to you desolate. For I tell you, you will not see me again until you say, ' Blessed is he who comes in the name of the Lord '!"
Matthew 23:37-39
This good news of the kingdom will be proclaimed in all the world as a testimony to all nations, and then the end will come.
Matthew 24:14
For the love of Christ compels us, since we have reached this conclusion, that one died for all, and therefore all died. And he died for all so that those who live should no longer live for themselves, but for the one who died for them and was raised.
2 Corinthians 5:14-15
Therefore, since we know the fear of the Lord, we try to persuade people. What we are is plain to God, and I hope it is also plain to your consciences. We are not commending ourselves to you again, but giving you an opportunity to be proud of us, so that you may have a reply for those who take pride in outward appearance rather than in the heart. For if we are out of our mind, it is for God; if we are in our right mind, it is for you.
What has been your experience with "mission" or "missionaries"? Do you know or are you aware of any missionaries who are an inspiration to you?
Read Exodus 9:14-16, Joshua 4:23-24, and I Samuel 17:45-46. What is God's ultimate purpose? What part have you played (or could you play) in the goal of "that all the peoples of the world may know that the hand of God is mighty"?
Have everyone in your group close their eyes and take a deep breath, and then read Psalm 46. Have each person share which word, phrase, or verse impacted them from this chapter. How do the truths of Psalm 46 encourage, challenge, or comfort you?
Read 2 Corinthians 5:11-15. Are you compelled to persuade others about Jesus? What barriers do you face?
Youth
More From This Series
More From This Speaker