Quick Clips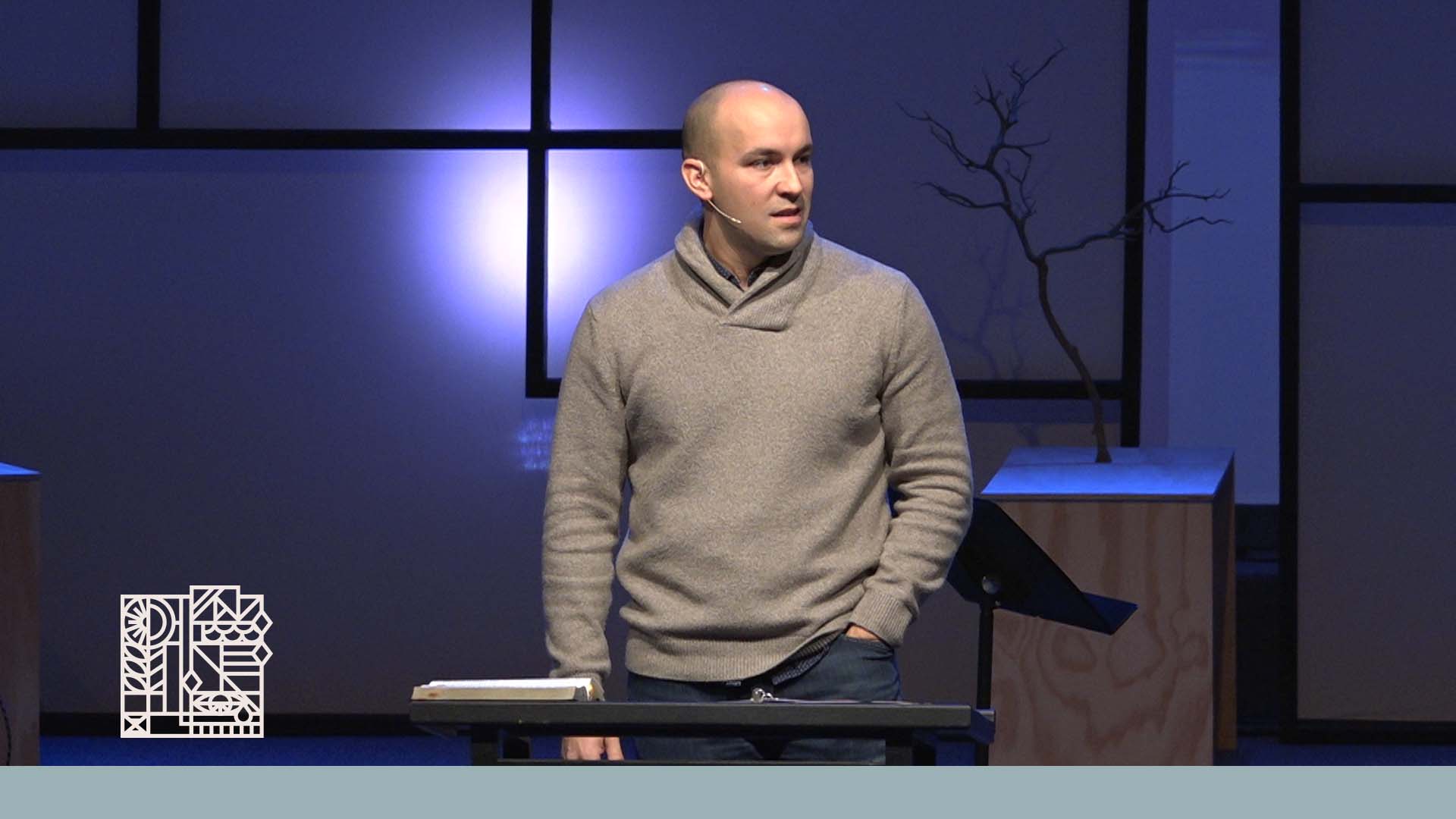 02.13.22 | The Apostles Creed
I Believe In The Forgiveness Of Sins
When we see the depth of our sin, we become increasingly aware of both the ways we are broken and the grace we have received though Jesus' sacrifice on the cross. Have you accepted the freedom offered to you, or do you find yourself feeling stuck in your attempt to be good enough? Pastor Tony Pyle reminds us that the goal of our lives is not to be a good person, but to be loved by God.
Watch
Watch
Watch
Listen
Listen
Listen
The forgiveness of sins
Now the serpent was the most cunning of all the wild animals that the LORD God had made. He said to the woman, "Did God really say, 'You can't eat from any tree in the garden'?" The woman said to the serpent, "We may eat the fruit from the trees in the garden. But about the fruit of the tree in the middle of the garden, God said, 'You must not eat it or touch it, or you will die.'" "No! You will certainly not die," the serpent said to the woman. "In fact, God knows that when you eat it your eyes will be opened and you will be like God, knowing good and evil." The woman saw that the tree was good for food and delightful to look at, and that it was desirable for obtaining wisdom. So she took some of its fruit and ate it; she also gave some to her husband, who was with her, and he ate it. Then the eyes of both of them were opened, and they knew they were naked; so they sewed fig leaves together and made coverings for themselves.
So the LORD sent Nathan to David. When he arrived, he said to him: There were two men in a certain city, one rich and the other poor. The rich man had very large flocks and herds, but the poor man had nothing except one small ewe lamb that he had bought. He raised her, and she grew up with him and with his children. From his meager food she would eat, from his cup she would drink, and in his arms she would sleep. She was like a daughter to him. Now a traveler came to the rich man, but the rich man could not bring himself to take one of his own sheep or cattle to prepare for the traveler who had come to him. Instead, he took the poor man's lamb and prepared it for his guest. David was infuriated with the man and said to Nathan, "As the LORD lives, the man who did this deserves to die! Because he has done this thing and shown no pity, he must pay four lambs for that lamb." Nathan replied to David, "You are the man! This is what the LORD God of Israel says: 'I anointed you king over Israel, and I rescued you from Saul. I gave your master's house to you and your master's wives into your arms, and I gave you the house of Israel and Judah, and if that was not enough, I would have given you even more. Why then have you despised the LORD's command by doing what I consider evil? You struck down Uriah the Hethite with the sword and took his wife as your own wife — you murdered him with the Ammonite's sword.
If we say, "We have no sin," we are deceiving ourselves, and the truth is not in us.
For all have sinned and fall short of the glory of God.
And you were dead in your trespasses and sins in which you previously walked according to the ways of this world, according to the ruler of the power of the air, the spirit now working in the disobedient. We too all previously lived among them in our fleshly desires, carrying out the inclinations of our flesh and thoughts, and we were by nature children under wrath
"A creditor had two debtors. One owed five hundred denarii, and the other fifty. Since they could not pay it back, he graciously forgave them both. So, which of them will love him more?" Simon answered, "I suppose the one he forgave more." "You have judged correctly," he told him. Turning to the woman, he said to Simon, "Do you see this woman? I entered your house; you gave me no water for my feet, but she, with her tears, has washed my feet and wiped them with her hair. You gave me no kiss, but she hasn't stopped kissing my feet since I came in. You didn't anoint my head with olive oil, but she has anointed my feet with perfume. Therefore I tell you, her many sins have been forgiven; that's why she loved much. But the one who is forgiven little, loves little." Then he said to her, "Your sins are forgiven." Those who were at the table with him began to say among themselves, "Who is this man who even forgives sins?" And he said to the woman, "Your faith has saved you. Go in peace."
Since the law has only a shadow of the good things to come, and not the reality itself of those things, it can never perfect the worshipers by the same sacrifices they continually offer year after year. Otherwise, wouldn't they have stopped being offered, since the worshipers, purified once and for all, would no longer have any consciousness of sins? But in the sacrifices there is a reminder of sins year after year. For it is impossible for the blood of bulls and goats to take away sins. Every priest stands day after day ministering and offering the same sacrifices time after time, which can never take away sins. But this man, after offering one sacrifice for sins forever, sat down at the right hand of God. He is now waiting until his enemies are made his footstool. For by one offering he has perfected forever those who are sanctified. Now where there is forgiveness of these, there is no longer an offering for sin.
If we say, "We have no sin," we are deceiving ourselves, and the truth is not in us. If we confess our sins, he is faithful and righteous to forgive us our sins and to cleanse us from all unrighteousness.
Be gracious to me, God, according to your faithful love; according to your abundant compassion, blot out my rebellion. Completely wash away my guilt and cleanse me from my sin. For I am conscious of my rebellion, and my sin is always before me. Against you — you alone — I have sinned and done this evil in your sight. So you are right when you pass sentence; you are blameless when you judge. Indeed, I was guilty when I was born; I was sinful when my mother conceived me. Surely you desire integrity in the inner self, and you teach me wisdom deep within. Purify me with hyssop, and I will be clean; wash me, and I will be whiter than snow. Let me hear joy and gladness; let the bones you have crushed rejoice. Turn your face away from my sins and blot out all my guilt. God, create a clean heart for me and renew a steadfast spirit within me. Do not banish me from your presence or take your Holy Spirit from me. Restore the joy of your salvation to me, and sustain me by giving me a willing spirit. Then I will teach the rebellious your ways, and sinners will return to you. Save me from the guilt of bloodshed, God — God of my salvation — and my tongue will sing of your righteousness. Lord, open my lips, and my mouth will declare your praise. You do not want a sacrifice, or I would give it; you are not pleased with a burnt offering. The sacrifice pleasing to God is a broken spirit. You will not despise a broken and humbled heart, God.
I believe in God, the Father almighty,
creator of heaven and earth.
I believe in Jesus Christ, his only Son, our Lord.
He was conceived by the power of the Holy Spirit and born of the virgin Mary.
He suffered under Pontius Pilate,
was crucified, died, and was buried.
He descended to the dead.
On the third day he rose again.
He ascended into heaven,
and is seated at the right hand of the Father.
He will come again to judge the living and the dead. I believe in the Holy Spirit,
the holy catholic Church,
the communion of the saints,
the forgiveness of sins,
the resurrection of the body,
and the life everlasting. Amen.
What aspects of MTD (Moralistic, Therapeutic, Deism) strike you? Why do you think this is a popular worldview among men and women today?
Why do you think people shy away from believing that they are sinful? What about this doctrine is difficult for people to believe?
Think about Luke 7:41-50. How does your view of sin affect your view of forgiveness?
Have you confessed your sin and put your faith in Jesus for the forgiveness of sins? If not, what is keeping you from doing so? If so, take time to pray and thank God for this amazing gift of forgiveness.
Youth
More From This Series
More From This Speaker