Quick Clips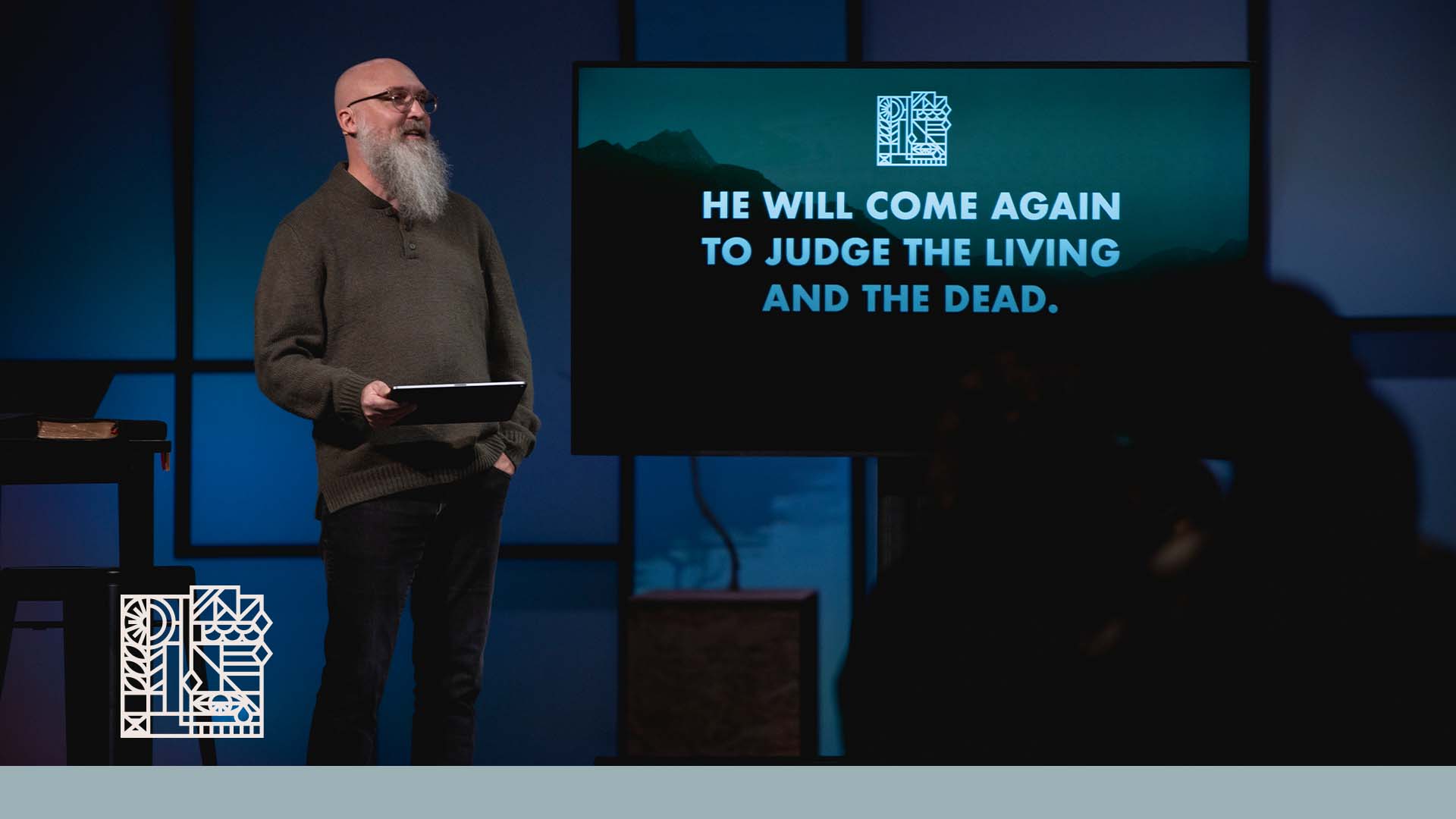 01.16.22 | The Apostles Creed
I Believe Jesus Will Return
Noel Heikkinen
Hebrews 10:24–25
The return of Jesus is something that Christ followers have been awaiting for 2000 years. Do you believe Jesus will return? Pastor Noel Jesse Heikkinen encourages us that as followers of Christ, we can patiently and confidently wait for Jesus' return. His grace that saved us is the same grace that gives us power to overcome temptation and is the same grace that will give us new life at the end of time when He returns.
Watch
Watch
Watch
Listen
Listen
Listen
I believe in God, the Father almighty,
creator of heaven and earth.
I believe in Jesus Christ, his only Son, our Lord.
He was conceived by the power of the Holy Spirit and born of the virgin Mary.
He suffered under Pontius Pilate,
was crucified, died, and was buried.
He descended to the dead.
On the third day he rose again.
He ascended into heaven,
and is seated at the right hand of the Father.
He will come again to judge the living and the dead. I believe in the Holy Spirit,
the holy catholic Church,
the communion of the saints,
the forgiveness of sins,
the resurrection of the body,
and the life everlasting. Amen.
He who testifies about these things says, "Yes, I am coming soon." Amen! Come, Lord Jesus! The grace of the Lord Jesus be with everyone. Amen.
Then I saw heaven opened, and there was a white horse. Its rider is called Faithful and True, and with justice he judges and makes war. His eyes were like a fiery flame, and many crowns were on his head. He had a name written that no one knows except himself. He wore a robe dipped in blood, and his name is called the Word of God. The armies that were in heaven followed him on white horses, wearing pure white linen. A sharp sword came from his mouth, so that he might strike the nations with it. He will rule them with an iron rod. He will also trample the winepress of the fierce anger of God, the Almighty. And he has a name written on his robe and on his thigh: KING OF KINGS AND LORD OF LORDS.
"Lord," Simon Peter said to him, "where are you going?" Jesus answered, "Where I am going you cannot follow me now, but you will follow later." "Lord," Peter asked, "why can't I follow you now? I will lay down my life for you." Jesus replied, "Will you lay down your life for me? Truly I tell you, a rooster will not crow until you have denied me three times.
"Don't let your heart be troubled. Believe in God; believe also in me. In my Father's house are many rooms. If it were not so, would I have told you that I am going to prepare a place for you? If I go away and prepare a place for you, I will come again and take you to myself, so that where I am you may be also.
I will not leave you as orphans; I am coming to you. In a little while the world will no longer see me, but you will see me. Because I live, you will live too.
For the grace of God has appeared, bringing salvation for all people, instructing us to deny godlessness and worldly lusts and to live in a sensible, righteous, and godly way in the present age, while we wait for the blessed hope, the appearing of the glory of our great God and Savior, Jesus Christ.
For the grace of God has appeared, bringing salvation for all people.
instructing us to deny godlessness and worldly lusts
and to live in a sensible, righteous, and godly way in the present age
No temptation has come upon you except what is common to humanity. But God is faithful; he will not allow you to be tempted beyond what you are able, but with the temptation he will also provide the way out so that you may be able to bear it.
saying, "Where is his 'coming' that he promised? Ever since our ancestors fell asleep, all things continue as they have been since the beginning of creation."
They deliberately overlook this: By the word of God the heavens came into being long ago and the earth was brought about from water and through water. Through these the world of that time perished when it was flooded. By the same word, the present heavens and earth are stored up for fire, being kept for the day of judgment and destruction of the ungodly.
Dear friends, don't overlook this one fact: With the Lord one day is like a thousand years, and a thousand years like one day. The Lord does not delay his promise, as some understand delay, but is patient with you, not wanting any to perish but all to come to repentance. But the day of the Lord will come like a thief; on that day the heavens will pass away with a loud noise, the elements will burn and be dissolved, and the earth and the works on it will be disclosed. Since all these things are to be dissolved in this way, it is clear what sort of people you should be in holy conduct and godliness as you wait for the day of God and hasten its coming. Because of that day, the heavens will be dissolved with fire and the elements will melt with heat. But based on his promise, we wait for new heavens and a new earth, where righteousness dwells.
He [Jesus] will come again to judge the living and the dead.
Then I saw a great white throne and one seated on it. Earth and heaven fled from his presence, and no place was found for them. I also saw the dead, the great and the small, standing before the throne, and books were opened. Another book was opened, which is the book of life, and the dead were judged according to their works by what was written in the books.
How much time do you spend thinking about the fact that Jesus will someday return? What do you imagine that moment will look like?
Read I Corinthians 10:13-14. What are some worldly temptations you face? What idol or idols (i.e. some people idolize comfort, or physical pleasure, or the approval of others) do you think are at the root of those temptations?
How can the reality of the future return of Jesus impact your life today? If you truly believe He will "come again to judge the living and the dead," how should that impact your personal character and relationships with others now? (see Titus 2:11-13, I Peter 1:3-7, and II Peter 3:10-14)
Find some passages (i.e. I corinthians 2:9, Revelation 20:11-12, Revelation 21:10-27)in the Bible that describe the glorious eternal future that awaits all who are followers of Jesus Christ. Take some time to read them out loud together, and to reflect on and thank God for how awesome He is for preparing such a place for us.
Youth
More From This Series
More From This Speaker