Quick Clips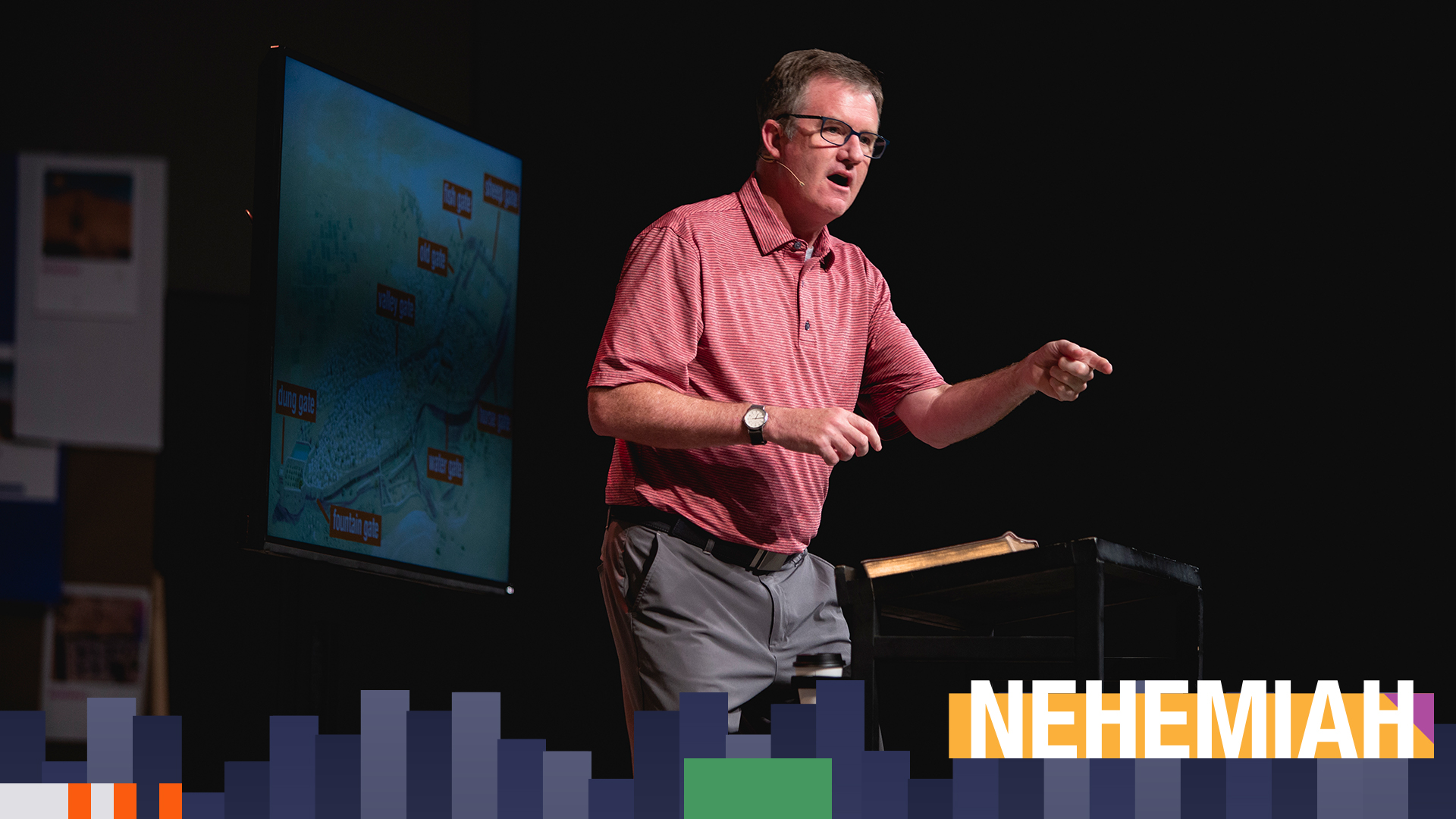 07.04.21 | Nehemiah
Singular Focus
James Granger
Nehemiah 6-7
We all face challenges and opposition in life. Where do you look when faced with a challenge? Pastor James Granger reminds us to first look up and seek out God first when we have hardship around us. Jesus Christ is to be the one great focus of our lives.
Watch
Watch
Watch
Listen
Listen
Listen
When Sanballat, Tobiah, Geshem the Arab, and the rest of our enemies heard that I had rebuilt the wall and that no gap was left in it  — though at that time I had not installed the doors in the city gates  —  Sanballat and Geshem sent me a message: "Come, let's meet together in the villages of the Ono Valley." They were planning to harm me.
Nehemiah 6:1-2
So I sent messengers to them, saying, "I am doing important work and cannot come down. Why should the work cease while I leave it and go down to you?" Four times they sent me the same proposal, and I gave them the same reply.
Nehemiah 6:3-4
Sanballat sent me this same message a fifth time by his aide, who had an open letter in his hand. In it was written: It is reported among the nations — and Geshem agrees — that you and the Jews plan to rebel. This is the reason you are building the wall. According to these reports, you are to become their king and have even set up the prophets in Jerusalem to proclaim on your behalf, "There is a king in Judah." These rumors will be heard by the king. So come, let's confer together.
Nehemiah 6:5-7
Then I replied to him, "There is nothing to these rumors you are spreading; you are inventing them in your own mind." For they were all trying to intimidate us, saying, "They will drop their hands from the work, and it will never be finished." But now, my God, strengthen my hands.
Nehemiah 6:8-9
I went to the house of Shemaiah son of Delaiah, son of Mehetabel, who was restricted to his house. He said: Let's meet at the house of God, inside the temple. Let's shut the temple doors because they're coming to kill you. They're coming to kill you tonight! But I said, "Should a man like me run away? How can someone like me enter the temple and live? I will not go." I realized that God had not sent him, because of the prophecy he spoke against me. Tobiah and Sanballat had hired him. He was hired, so that I would be intimidated, do as he suggested, sin, and get a bad reputation, in order that they could discredit me.
Nehemiah 6:10-13
The wall was completed in fifty-two days, on the twenty-fifth day of the month Elul. When all our enemies heard this, all the surrounding nations were intimidated and lost their confidence, for they realized that this task had been accomplished by our God.
Nehemiah 6:15-16
All these people were still living by faith when they died. They were longing for a better country—a heavenly one. Therefore God is not ashamed to be called their God, for he has prepared a city for them.
Hebrews 6:13,16
Therefore, since we also have such a large cloud of witnesses surrounding us, let us lay aside every hindrance and the sin that so easily ensnares us. Let us run with endurance the race that lies before us, keeping our eyes on Jesus, the pioneer and perfecter of our faith. For the joy that lay before him, he endured the cross, despising the shame, and sat down at the right hand of the throne of God.
If you were to ask your family and closest friends, what would they say is the foremost passion in your life?
What are the biggest distractions you face in remaining focused on Jesus? Is it the pace of your life? Sin issues? How does the example of Nehemiah motivate or encourage you?
How do you handle critical feedback? What are some steps you can take to help evaluate and respond when you receive "difficult to hear" feedback?
Nehemiah refuses to follow (see Nehemiah 6:10-13) Shemaiah's request to meet him in the temple because he doesn't want to disobey God's Word. Give some examples of how you filter your choices, decisions, and action steps through the truth of God's Word.
Read Hebrews 12:3. How does the example of Jesus provide endurance for you in the face of the challenges of your life?
Youth
More From This Series
More From This Speaker